Thursday 5 May 2022, Amsterdam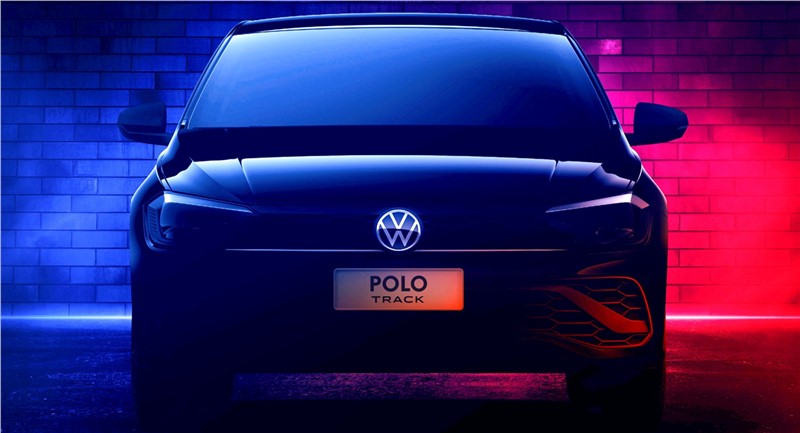 The VW Polo Track (above) versus the EU-spec Polo (below) after the 2021 facelift
---
Volkswagen published the first teaser of the Polo Track, a budget version of the supermini designed for South America that's set to replace the discontinued Gol. The MQB-based model will be produced in Brazil, with a market launch scheduled for 2023.

While the name Track would suggest a crossover, the Polo Track is a regular hatchback. The shadowy teaser reveals it shares most of its body panels with the regular Polo which is also offered in Brazil. However, the Track comes with a few design tweaks including simpler headlight graphics, a thicker grille, and a redesigned bumper with a honeycomb pattern on the sporty intakes.

The entry-level approach of the Polo Track has to do with cost-cutting measures that will make it more affordable. VW didn't go into details but the model could implement the lessons learned from Skoda in India, just like the mechanically-related VW Virtus global sedan that is a sibling to the Skoda Slavia. In a similar manner, the Polo Track could share some elements with the Skoda Fabia, and most likely lose the more expensive trim options of the Polo. In terms of engines, local media suggest it could get the naturally aspirated 1.0-litre three-cylinder offered in both gasoline and ethanol variants.

VW said that the Polo Track is the first of a new compact car family for the "entry-level segment" that will roll out in the region following a €1 billion ($1.06 billion) investment by 2026. The model will be produced in the Taubaté factory in Brazil, unlike the regular Polo that is produced in Sao Bernardo do Campo, Brazil.

The South American operations of Volkswagen have returned to profitability for the first time since 2013, after a restructuring program and portfolio renewal that resulted in 20 new models in four years. VW is now focusing on digitalization and decarbonization in South America, with the goal of becoming carbon-neutral by 2050. As a local alternative to electrification until charging networks become widespread in the region, VW is investing in biofuels like Bioethanol which can reduce carbon emissions by up to 90 percent compared to gasoline.
Source: Carscoops ( original url )

back to News