Tuesday 26 April 2022, Amsterdam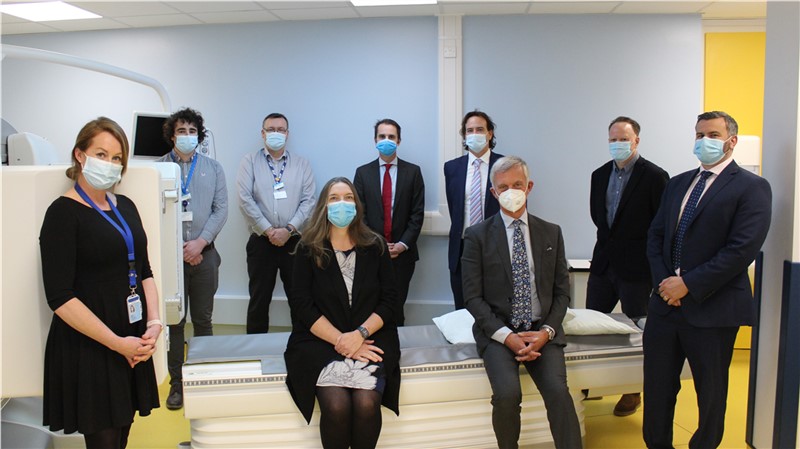 The 10-year agreement between the Hampshire Hospitals NHS Foundation Trust and GE Healthcare will cover 120 pieces of radiology equipment and will make use of AI to enhance cancer diagnosis
---
GE Healthcare and the Hampshire Hospitals NHS Foundation Trust (HHFT) have signed a 10-year partnership agreement with the aim of transforming their radiology services and improve patient care. This partnership includes a Radiology Managed Service (RMS) covering 120 pieces of radiology equipment, a command centre, and an Oncology Cockpit to speed up cancer diagnosis.
Through the RMS agreement, GE Healthcare will manage the installation and maintenance services of radiology equipment including MR, CT, ultrasound, and more. This will enable access to new technology throughout the agreement, supporting staff to transform the radiology services offered at Basingstoke & North Hampshire Hospital and the Royal Hampshire County Hospital in Winchester.
As part of HHFT's broader programme to improve speed to diagnosis for patients with suspected cancer, the agreement also includes an Oncology Cockpit and a command centre. The Cockpit will map diagnostic demand and capacity constraints, helping staff to identify potential delays in the cancer pathway, simplify patient workflow, reduce waste, and ultimately improve speed to diagnosis for patients with suspected cancer. The command centre will use advanced analytics to give staff a near real-time system and patient overview, in areas such as radiology, outpatient and inpatient care. Hospitals using command centre solutions around the world have reported for example, reduced length of patient stay, increased efficiency, and improved staff satisfaction.
GE Healthcare also aims to deliver improved clinical, operational, and financial outcomes by extracting and integrating data from scanners and Radiological Information Systems (RIS) to allow visual management of the imaging pathway from referral to report. In this way, it will optimise the capacity and performance of every piece of equipment, as well as the system as a whole, streamlining the patient pathway and helping HHFT's radiology teams deliver even better outcomes for the 600,000 people the Trust serves.
"Our vision is to provide outstanding care for every patient. To do that we need to bring innovation and investment into our hospitals and our clinical teams," said Alex Whitfield, Chief Executive of the Hampshire Hospitals NHS Foundation Trust. "This partnership will not only give us access to advanced radiology equipment, but it will also enable faster, more accurate diagnosis and reduce waiting times for patients. It's great news for our fantastic radiology teams and it's even better news for our patients."
"As we recover from the pandemic, the next few years will be challenging for everyone in the NHS, but HHFT has chosen to invest in a long-term, innovative approach to optimising capacity and empowering its outstanding radiology teams," said Simon McGuire, General Manager, GE Healthcare Northern Europe. "We'll be with them every step of the way and are thrilled to be working with the Trust."
The agreement extends and enhances the relationship between GE Healthcare and HHFT, following GE's provision of ventilators and monitoring support to expand Emergency Department capacity in Hampshire at the height of the COVID-19 surge.
Source: GE Healthcare ( original url )

back to News