Tuesday 7 December 2021, Taipei, Taiwan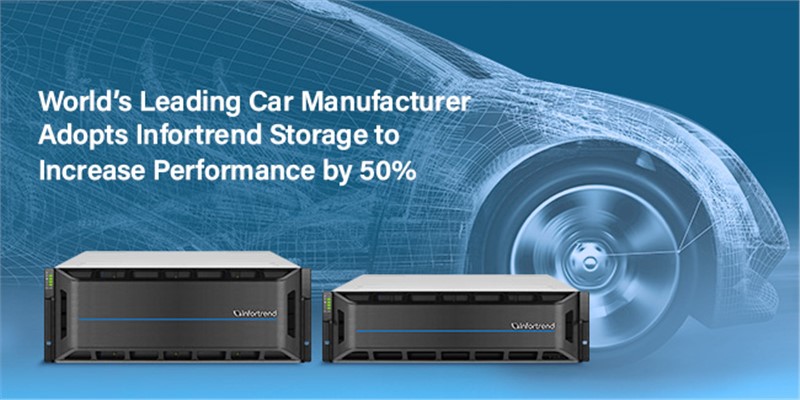 World's Leading Car Manufacturer Adopts Infortrend Storage to Increase Performance by 50%
---
Infortrend® Technology, Inc. (TWSE: 2495), the industry-leading enterprise storage provider, modernized the IT infrastructure of the world's leading car manufacturer with EonStor GS enterprise unified storage for file storage and server backup application. The solution provided ease of management with stable performance and data protection, which greatly benefitted to overall productive performance of the company.
The world's leading automakers have a legacy storage system for employees in different departments to use, requiring full server backups every day. IT departments continue to receive complaints from employees that the existing file servers cannot provide fast enough access, especially when accessing large files during peak hours. A complete server backup also takes a long time-usually, it is done overnight, or even longer, overlapping with production time, which has a negative impact on the company's productivity.
Their system integrator, IO Datamover, fully understood the needs of customers and found that EonStor GS is suitable for providing smooth access to corporate data, fast backups, and strict data protection. "EonStor GS provides high performance and usability, which perfectly solves the pain points of enterprises, and is very suitable for general applications, such as enterprise file sharing and backup/archiving," suggested Frank Lee, senior director of product planning.
For the regional office and the factory, SI deployed two systems of enterprise unified storage EonStor GS 1000, providing 80 TB total capacity. GS solved the main issue of slow access to files and greatly improved the performance of the server's full backup from hours to minutes. At least 50% faster file access greatly contributes to improving employees' productivity. For the marketing team, it helps with meeting deadlines in creating advertisement materials, for drawing and design professionals — with sharing files with related users on production site/office, while making sure the company's 'know-how' is protected with properly structured user authentication and file access rights.
"Infortrend storage dramatically improved file access performance and reduced server backup time to help workers of the famous car manufacturing company increase productivity output and, hence, gain higher profits," said Kelvin Chuah, Sales Director of IO Datamovers.
Source: Infortrend Technology, Inc. ( original url )

back to News