Tuesday 30 November 2021, GUILFORD, CT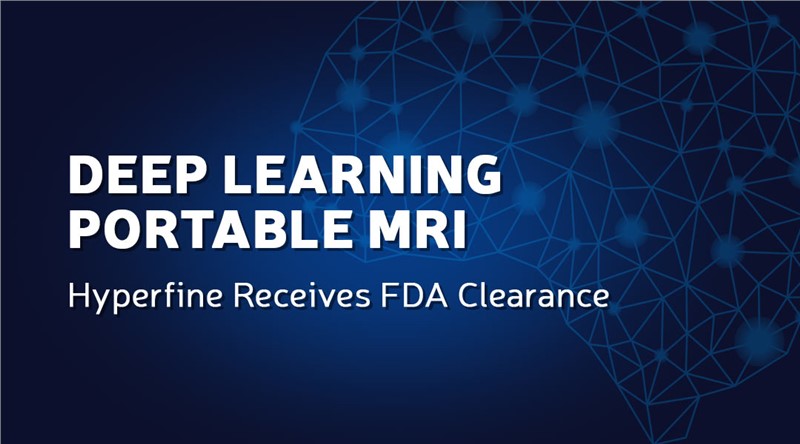 Hyperfine, Inc., creator of the first FDA-cleared portable magnetic resonance imaging (MRI) device, Swoop®, today announced the FDA 510(k) clearance and launch of its new advanced image reconstruction technology using deep learning (DL). The image quality resulting from this innovative approach elevates the diagnostic value of portable MRI.
Current MRI systems have limitations due to size, fixed location, cost, and staff training requirements. Hyperfine has overcome these limitations by rethinking MRI design from the bottom up and adding smart computing. The result is Swoop, an easy-to-use, portable, and affordable system costing less than the annual service contract of many conventional MRI systems.
"Improved image quality through artificial intelligence, paired with the lower cost and bedside capabilities of Swoop, are enabling greater access to high-quality MR imaging for patients, regardless of income, resources, or location," said Dave Scott, president, and chief executive officer of Hyperfine.
For clinicians, better image quality can support more accurate and faster diagnoses. More rapid diagnosis and treatment can help shorter hospital stays and an improved overall healthcare experience for patients. With the launch of its deep learning-based advanced image reconstruction technology, Swoop can deliver crisp, clear T1, T2, and FLAIR images.
"Swoop is already a game-changer in terms of its ability to provide MR imaging at a patient's bedside," said Dr. Fady Charbel, Head of the Department of Neurosurgery at the University of Illinois of Chicago. "With the integration of deep learning-based image reconstruction, clinicians can now visualize anatomy and pathology more clearly and with increased confidence enabling diagnosis more expeditiously, critical for treating acute neurological conditions.
In January, Hyperfine received FDA clearance for its advanced artificial intelligence (AI) application. This AI technology measures brain structure and pathology in images acquired by Swoop through tools featuring automatic measurement of ventricular volume, brain extraction, brain alignment, and midline shift— which clinicians can use to diagnose and measure acute neurological conditions at a patient's bedside. With the addition of deep learning-based advanced image reconstruction, Hyperfine has significantly improved image quality from the Swoop system and expects to continue to do so.
Source: Hyperfine ( original url )

back to News