Monday 4 August 2014, Amsterdam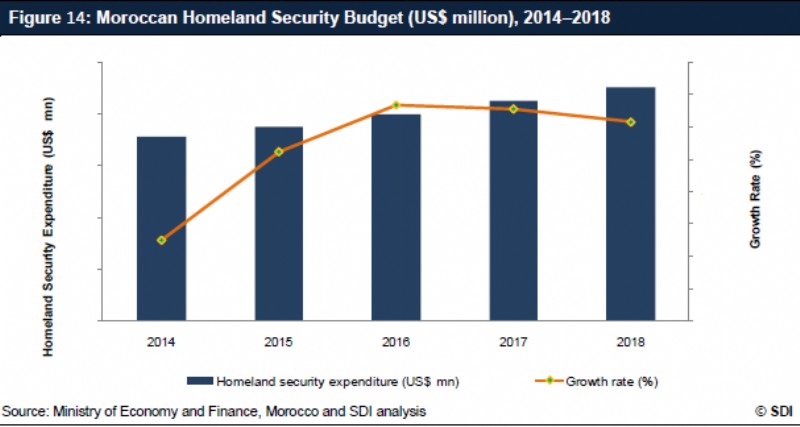 The threats of attacks from the domestic terrorist groups have necessitated the increased spending on counter-terrorism and counter-insurgency efforts in Morocco, which will see defence expenditure rise at a CAGR of 4.42% over the next five years, according to the new report. Morocco's defense market is still set to reach a value of US$4.5 billion by 2018.
This report provides in depth analysis of the Moroccan defense market, with identification of market drivers augmenting its provision of data on the current industry size and growth expectations to 2018. Together with its investigation of the industry structure and procurement dynamics, with analysis of the competitive landscape of the Moroccan defense industry, and its assessment of the business environment, Future of the Moroccan Defense Industry – Market Attractiveness, Competitive Landscape and Forecasts to 2018 should be considered the definitive guide to the Iraqi defense market, and required reading for those serious about capitalizing on the significant opportunities it holds.
KEY MILITARY MARKET DRIVERS
The following factors are expected to drive the country's homeland security (HLS) expenditure over the forecast period:
Drug Smuggling:
Morocco's position in North Africa along with the neighboring regions of Algeria, Western Sahara, the Atlantic Ocean, and the Mediterranean Sea, and its adjacency to Spain, makes the country a favorable position for the transit of drugs between continents. Most of the drugs are shipped from Morocco across the Mediterranean on fishing vessels and private yachts.
Moroccan drug dealers also work in association with their counterparts in Nigeria, Ghana, Liberia, Mauritania, and Sierra Leone to carry on drug smuggling in Africa through ports and road routes. In August 2013, the Royal Moroccan Gendarmerie seized a boat laden with hashish that was on its way to Cadiz. As drug trafficking continues to be a problem for the nation, the demand for scanning machines, alarms, and radars to detect infiltration is expected to increase during the forecast period.
Cybercrime and money laundering:
Cybercrime activities in Morocco have accelerated over the last few years. Personal accounts of individuals, corporate websites of business groups, and information systems of government agencies remain vulnerable to the threats of cybercrime and cyber spying. In 2013, hackers from a cybercrime group, Moroccan Ghosts, hacked in to and defaced the website of the Nigerian Ministry of Defence, 52 websites in Israel, 152 websites in Spain, the website of Zionist Federation of New Zealand, the International Center of Human Rights website, and 12 Vietnamese government websites.
The Moroccan government initiated the MA-CERT (Moroccan Academic Computer Emergency Response Team) that aims to tackle issues related to the computer security breach, respond to crisis on the national level, conduct analysis of the level of vulnerabilities, and restore attacked systems.
ASDReports.com Media contact: S. Koopman - Marketing and Communications
ASDReports.com / ASDMedia BV - Veemkade 356 - 1019HD Amsterdam - The Netherlands
P : +31(0)20 486 1286 - F : +31(0)20 486 0216 - E : stefan.koopman@asdreports.com

back to News