Thursday 19 June 2014, Amsterdam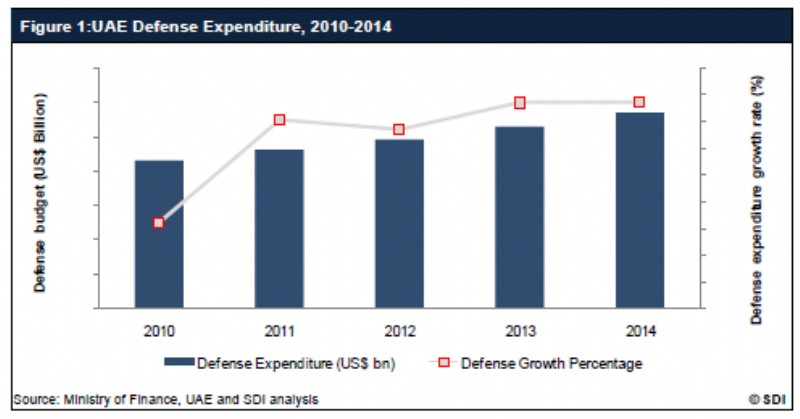 The new report: Future of the UAE Defense Industry - Market Attractiveness, Competitive Landscape and Forecasts to 2019 analyzes the UAE's defense industry market size and drivers, including detailed analysis of the UAE's defense industry over the next 5 years, together with highlights of the demand drivers and growth stimulators for the industry. This report analyzes driving factors that will influence demand for the industry, key market trends and the challenges faced by industry participants.
The difference:
• You will acquire detailed profiles of the top domestic and foreign defense manufacturers with information about their products, and alliances. Providing you with a total competitive landscape of the sector.
• This report analyzes factors that influence demand for the industry, including key market trends and challenges faced by industry participants, allowing you to adjust your business plan.
• This report will provide you with the confidence to make the correct business decisions based on a detailed analysis of the UAE's defense industry market trends for the coming five years.
Report Highlight:
Located on the south side of the Strait of Hormuz, the UAE is currently experiencing rapid expansion owing to burgeoning oil and gas exports. The country is fast becoming one of the most important financial and trading centres in the Middle East, and is in the process of diversifying its revenue streams through non-energy sectors such as tourism, infrastructure, and technology.
The UAE's lack of indigenous defense capabilities and trained manpower has led to the government seeking technologically advanced, high quality defense systems from foreign original equipment manufacturers (OEMs). Over the next five years, attractive opportunities are expected to emerge in fighter and multi-role jets, attack helicopters, armoured vehicles, multi-layered missile defense systems and many more systems.
The UAE has a stringent offset policy, which requires defense contractors to either transfer technology or establish joint ventures with local firms in non-oil sectors. These obligations have contributed to significant growth in the domestic defense sector in the fields of shipbuilding, systems integration, naval logistics, and MRO activities.
ASDReports.com Media contact: S. Koopman - Marketing and Communications
ASDReports.com / ASDMedia BV - Veemkade 356 - 1019HD Amsterdam - The Netherlands
P : +31(0)20 486 1286 - F : +31(0)20 486 0216 - E : stefan.koopman@asdreports.com

back to News