Wednesday 29 February 2012, Amsterdam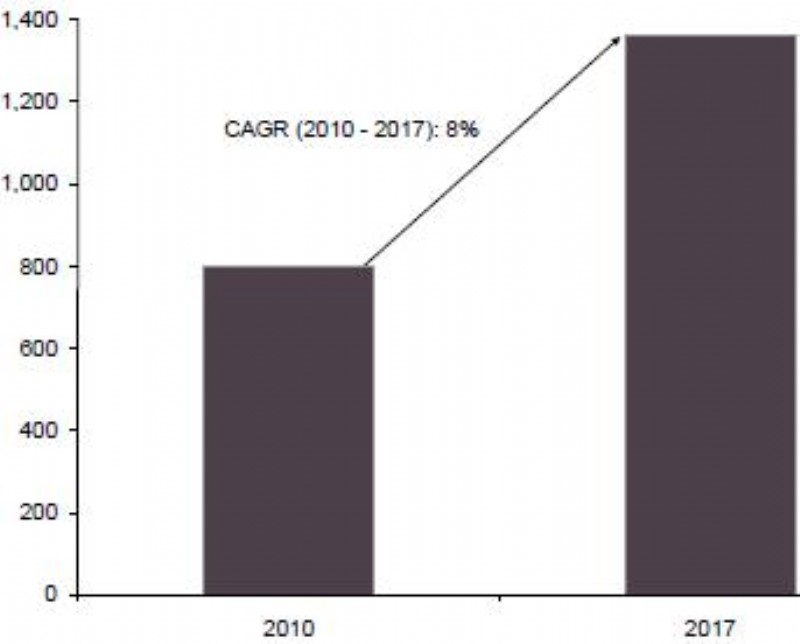 Global Pipeline Analysis, Competitive Landscape and Market Forecasts to 2017" provides key data, information and analysis on the global full-field digital mammography equipment market. The report provides market landscape, competitive landscape and market trends information on the full-field digital mammography equipment market. The report provides comprehensive information on the key trends affecting the market, and key analytical content on the market's dynamics. The report also reviews the competitive landscape and technology offerings.

The Global Full-Field Digital Mammography Equipment Market is Expected to Exceed $1.3 billion by 2017
See figure: Full-Field Digital Mammography Equipment Market, Global, Revenue ($m), 2010 - 2017
The global market for Full-Field Digital Mammography (FFDM) equipment was valued at $801.2m in 2010 and is forecast to exceed $1.3 billion in 2017 at a Compound Annual Growth Rate (CAGR) of 8%. The market is primarily driven by the increasing preference for FFDM systems due to technological advancements and increase in reimbursement. The US Food and Drug Administration (FDA) reclassification of FFDM devices from class III devices to class II devices in 2010 is another major factor that is expected to drive the growth of this sector. A combination of other modalities such as ultrasound and Magnetic Resonance Imaging (MRI) with mammography for improved breast cancer detection is also expected to drive the market growth. Film-screen mammography systems will continue to be replaced with FFDM systems to meet high patient volume and for improvement in the detection of breast cancer.

The US is the Largest Market for Full-Field Digital Mammography Equipment
The US is the largest market for FFDM equipment and contributed 51% of the global revenues in 2010. The US market was valued at $407.2m and is forecast to reach $713.9m in 2017 at a CAGR of 8%. The FDA reclassification of FFDM devices from class III to class II is expected to make it easier for companies to get clearance for new devices. The reclassification will also enable new companies to enter the market which will increase competition. The FDA approvals for FFDM systems from Hologic, GE Healthcare and Siemens Healthcare in 2011 is expected to further intensify the competition, in turn providing cost effective solutions for the customers.

Hologic, Inc. Dominate the Global Market for Full-Field Digital Mammography Equipment in 2010
In 2010, Hologic dominated the global market for FFDM equipment with a share of 52%. GE Healthcare (27%) and Siemens Healthcare (10%) are other key players in the market. Hologic dominates the US market with a share of about 70% while GE Healthcare is one of the dominant players in the Asia-Pacific market. Siemens Healthcare has a significant presence in Europe. Hologic is expected to strengthen its lead with the FDA's approval for Selenia Dimensions Breast Tomosynthesis (3D) system in 2011. GE Healthcare and Siemens Healthcare have also received FDA clearance for new FFDM systems in 2011. Philips Healthcare is expected to improve its presence in the global FFDM market with the acquisition of Sectra AB in 2011.

FDA Reclassification of Full-Field Digital Mammography Equipment to Drive Future Growth
The US FDA reclassified FFDM equipment from high-risk class III to medium-risk class II devices in November 2010. The reclassification means FFDM need not go through the pre-market approval (PMA) process that includes clinical trials to prove safety and efficacy. New equipment can be cleared for marketing in the US through FDA's 510k process which requires new devices to match the safety and efficacy of previously approved products. This will provide relief for companies as they do not have to go through the PMA process for the approval of new products. The companies will be able to launch new products without delay and this allows vendors to provide more options for purchase.

Demand for Refurbished Equipment to Affect Future Sales of New Equipment
The increasing demand for pre-owned medical equipment is expected to negatively affect the sales of new FFDM equipment. Refurbished medical equipment is sold either by equipment brokers or Original Equipment Manufacturers (OEMs) such as Siemens Healthcare and GE Healthcare. Refurbished equipment is provided with a warranty and in majority of the cases match what is available for new equipment. The refurbished equipment market is no longer a place of uncertainty but provides relatively new equipment at a significant discount. The refurbished mammography equipment is available at a discount of 30% to 50% in developed economies such as the US and Europe. This encourages hospitals to purchase refurbished equipment, and provides them the opportunity to use a combination of modalities such as ultrasound and MRI with FFDM for breast imaging at low cost.
ASDReports.com contact: S. Koomen
ASDReports.com / ASDMedia BV - Veemkade 356 - 1019HD Amsterdam - The Netherlands
P : +31(0)20 486 1286 - F : +31(0)20 486 0216

back to News