Tuesday 8 April 2014, Amsterdam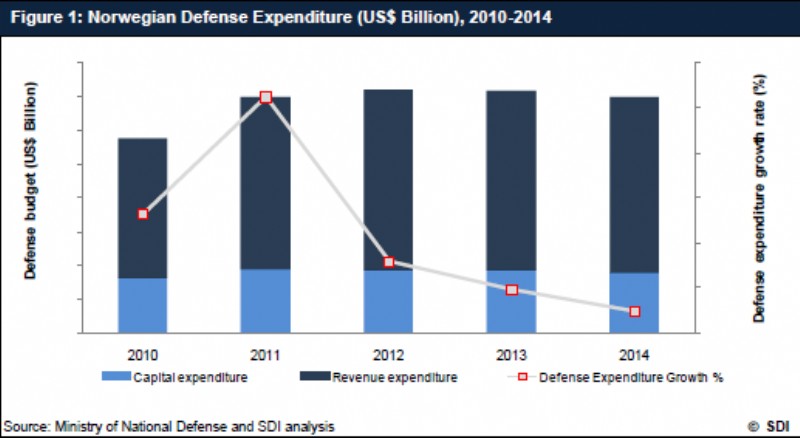 Norway's total defense expenditure stands at US$7 billion in 2014 and is expected to grow at a CAGR of 5.50% over the forecast period, to reach US$9.1 billion in 2019, according the new report – Future of the Norwegian Defense Industry - Market Attractiveness, Competitive Landscape and Forecasts to 2019.
Overall defense imports decreased between 2010 and 2014; however, due to the modernization and procurement plans of the Norwegian MoD, Norwegian defense imports are expected to increase over the forecast period. European countries such as France, Germany, Italy, and the UK are expected to remain the key suppliers during the forecast period.
This report provides in depth analysis of the Norwegian defense market, with identification of market drivers augmenting its provision of data on the current industry size and growth expectations to 2019. Together with its investigation of the industry structure and procurement dynamics, with analysis of the competitive landscape of the Norwegian defense industry, and its assessment of the business environment, The Future of the Norwegian Defense Industry - Market Attractiveness, Competitive Landscape and Forecasts to 2019 should be considered required reading for those serious about capitalizing on the significant opportunities it holds.
Key insights include:
The Norwegian government is increasing its efforts to strengthen its position on cyber security and has drafted a new National Cyber Defense Strategy (NCDS) in this regard. The initiative will be run under the Ministry of Defense's (MoD's) jurisdiction with an objective to create a common situational understanding of the cyber threat, secure information and communication systems, fortify the ability to detect, investigate and combat incidents.
The Norwegian Armed Forces have established the Norwegian Cyber Defence in September 2012 with 1500 force employees and the unit will be responsible for counter-cyber warfare in Norway. Furthermore, cyber security is one of the main priorities in the 2014 defence budget and the National Security Authority has been sanctioned an additional contribution of 20.2 million NOK in preserving national cyber security.
The country's defense exports are expected to grow significantly as a result of expansion into Thailand, Singapore, and South Africa, in which, demand for defense equipment is expected to be strong. Furthermore, new collaboration programs with foreign OEMs are also expected to drive Norwegian defense exports over the forecast period.
ASDReports.com Media contact: S. Koopman - Marketing and Communications
ASDReports.com / ASDMedia BV - Veemkade 356 - 1019HD Amsterdam - The Netherlands
P : +31(0)20 486 1286 - F : +31(0)20 486 0216 - E : stefan.koopman@asdreports.com

back to News