Thursday 13 March 2014, Amsterdam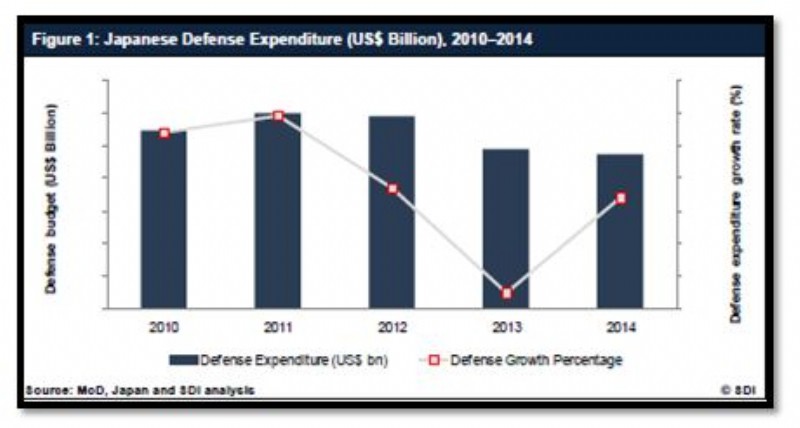 The threats of North Korea's long-range ballistic missiles and China's maritime intrusion have prompted Japan to focus on fortifying its own defense capabilities. Although Japan's defense budget registered a decline of 3.56% over the review period, this trend will change in the coming years, according to the new report – Future of the Japanese Defense Industry - Market Attractiveness, Competitive Landscape and Forecasts to 2019.
The majority of the defense budget is to be spent on revenue expenditure, which includes personnel salaries, operational expenses, training, and development. Capital expenditure accounted for a 19.4% share of the overall defense budget in 2014, and includes the procurement of military equipment, material expenses, R&D expenses, aircraft acquisition, and shipbuilding.
Key insights include:
• North Korea been identified by the Japanese government as a prime threat. This is primarily due to their testing of advanced ballistic missiles in 1998 and the more recent nuclear missile development initiatives in 2006, which violated the UN Security Council resolution.
• By 2018, Japan is expected to begin full-scale production of a new generation of powerful missile systems, which will be developed with the US, thereby increasing Japan's defense expenditure.
• One of the major concerns of the Japanese maritime security forces is the growing intrusion of Chinese forces into the nation's coastal areas. To counter this issue, Japan has deployed a number of forces around the Senkaku/Diaoyu Islands in collaboration with the US.
• The Japanese Navy and the Japanese Coast Guard are jointly responsible for protecting these islands. Both forces operate in collaboration with the US forces and regularly patrol Japanese maritime territory in order to protect vital sea lanes of communication. Over the forecast period, Japan is expected to strengthen surveillance capabilities in seas surrounding Japan and invest in the research and development of unmanned aerial vehicles as well as procuring patrol naval vessels and aircrafts.
• Japanese defense companies are highly advanced and sophisticated in terms of defense equipment manufacturing. Despite this, the Japanese defense industry is restricted solely to manufacturing tanks, warplanes, helicopters, and warships. This has resulted in a strong need to enter into joint development programs with other technologically advanced countries in order to procure sophisticated equipment such as missile defense systems and advanced C4ISR equipment.
ASDReports.com Media contact: S. Koopman - Marketing and Communications
ASDReports.com / ASDMedia BV - Veemkade 356 - 1019HD Amsterdam - The Netherlands
P : +31(0)20 486 1286 - F : +31(0)20 486 0216 - E : stefan.koopman@asdreports.com

back to News