Monday 27 January 2014, Amsterdam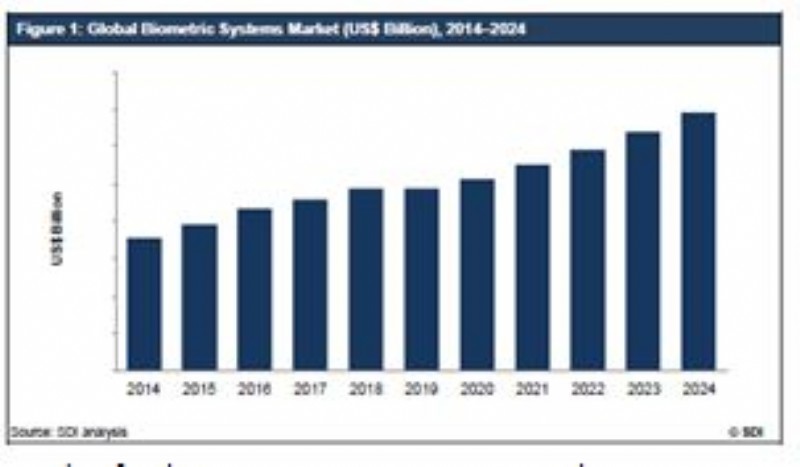 Global spending on government biometrics systems is set for healthy growth over the next ten years, according to the new report – The Global Government Biometric Systems 2014-2024 – which forecasts market growth at a CAGR of 6.88%, primarily driven by the central role being played by the requirement for verification of digital identity, and the increasing reliance on digital transactions where identity verification is ley for successful operation; these factors are compounded by the increasing availability of suppliers that are capable of delivering low cost, effective biometric systems.
The market for biometric systems is only now entering a phase of intense competition and innovation, which is expected to further encourage investment in this sector as suppliers vie for a share of the market from high spending countries. At the same time, a converse trend is seeing suppliers seek to capture the budgets of governments less inclined to make significant investments in biometric technology through the development of devices in lower price bands. Consequently, the global market is set to value US$56.1 billion over the next decade.
E-Passport & National Identity Card Programs
The global governmental spending on biometric programs and corresponding systems is mainly driven by the numerous e-passports and national identity card programs underway in various countries and projects slated in the near future. The US, and European nations including the UK, Germany and France, were the early adaptors of biometric technology; this was employed for a variety of purposes, including border control, airport security, identity security, and law enforcement.
Increasing instances of terrorism around the world are compelling governments – especially those of potentially vulnerable nations, such as the US, UK, Russia, and India – to introduce secure biometric passports and electronic documents, which prove instrumental in checking the entry of hostile forces into countries through the borders or airports. These national identity and biometric passport issuance programs involve huge investment, and will drive the market significantly over the next decade.
Technological Upgrades & Advancements
Biometrics is a dynamic industry, insofar as rapid technological advancements are resulting in sustained evolution of numerous new technologies. These are offering users enhanced security and automation capabilities, and are therefore attracting substantial investment, especially from more affluent European countries such as the UK, France, and Germany. Some of these technologies include: fingerprint, face, iris, voice, and vein recognition.
Further advances are coming in the shape of mobile biometrics, which brings the use of biometrics to smart-phones and other mobile devices; this is attractive for organizations that want to provide their staff with global remote access to sensitive information.
Combined with the growing fraternity of nations rolling out e-passports, these technological advances are set to drive substantial growth in the global government biometric systems market to 2024.
ASDReports.com Media contact: S. Koopman - Marketing and Communications
ASDReports.com / ASDMedia BV - Veemkade 356 - 1019HD Amsterdam - The Netherlands
P : +31(0)20 486 1286 - F : +31(0)20 486 0216 - E : stefan.koopman@asdreports.com

back to News