Thursday 18 August 2016, Amsterdam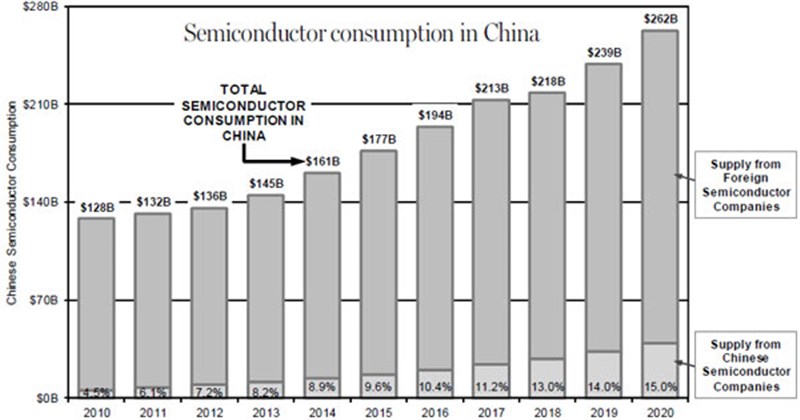 According to the new market research report, now available on ASDReports, "China Semiconductor Industry: Expansion Plans Analysis and Trends (Government Policies and Guidelines, Import and Export Impact on Trade Partners, Key Concepts, Case Study, Key Strategies Adopted, Future Plans, and Recommendation to Players)", the China semiconductor industry is expected to reach USD 157.66 Billion by 2020, at a CAGR of 12.8% between 2016 and 2020. The major factors driving the China semiconductor industry are the growing demand for semiconductors from various verticals and favorable government initiatives. The Government of China is promoting the growth of IC manufacturing. The Made in China 2025 policy formulated by the state council is dedicated to strengthening the semiconductor segment.
Integrated Circuit (IC) expected to hold the largest market and grow at the highest CAGR during the forecast period
The market for IC is expected to grow at the highest CAGR and hold the largest share during the forecast period. The semiconductor industry is the summation of integrated circuits (ICs) and optoelectronic, sensor, and discrete (O-S-D) devices. The IC segment accounted for almost two-thirds of the total semiconductor industry in China. The IC industry includes the manufacturing of logic ICs, memory ICs, processors, and analog ICs. The increasing demand for smartphones and tablets as well as the growing applications in consumer electronics and the automotive sector are expected to be the key drivers for the growth of the logic ICs segment. The demand for analog ICs is expected to be driven by the growth in the automotive and telecommunications sector.
Automotive vertical to grow at the highest CAGR during the forecast period
The increasing electronic content in automobiles has made the automotive electronics segment highly lucrative. The key trends in the automotive sector contributing to the rising semiconductor content in vehicles are IoT and intelligent transportation systems (ITS). The increasing availability, rising consumer awareness about fossil fuel pollution, and decreasing prices have led to the steady growth of hybrid and electric car shipments.
The report profiles the major players in the China semiconductor industry, namely, SK Hynix Inc. (South Korea), HiSilicon Technologies Co., Ltd. (China), Semiconductor Manufacturing International Corp. (SMIC) (China), Samsung Electronics Co., Ltd. (South Korea), Micron Technology Inc. (U.S.), Intel Corp. (U.S.), Qualcomm Inc. (U.S.), Jiangsu Changjiang Electronics Technology Co. Ltd. (JCET) (China), Tianjin Zhonghuan Semiconductor Co., Ltd. (China), and Spreadtrum Communications Inc. (China).
ASDReports.com Media contact: S. Koopman - Marketing and Communications
ASDReports.com / ASDMedia BV - Veemkade 356 - 1019HD Amsterdam - The Netherlands
P : +31(0)20 486 1286 - F : +31(0)20 486 0216 - E : stefan.koopman@asdreports.com

back to News