Thursday 22 August 2013, Amsterdam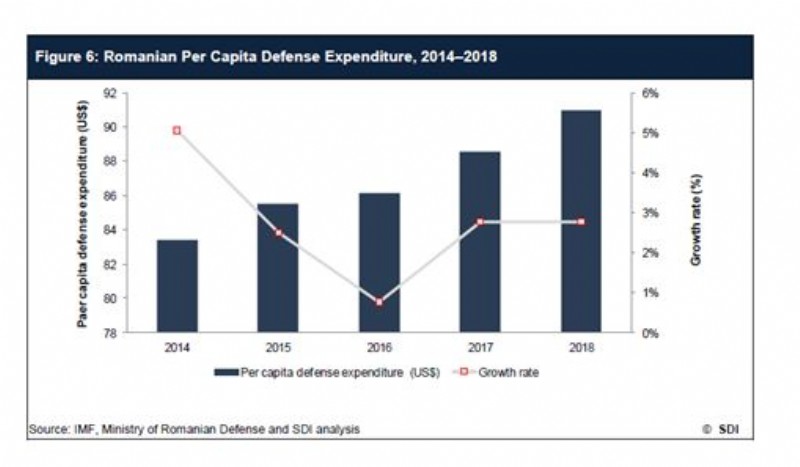 The budgetary limitations imposed by recent economic turmoil has seen Romanian defense expenditure contract from US$3 billion in 2008 to US$1.7 bn in 2013. Despite this, the demand for military modernization, combined with rising concern about cybersecurity, is expected to drive growth at a CAGR of 2% over the next five years, the new report: Future of the Romanian Defense Industry – Market Attractiveness, Competitive Landscape and Forecasts to 2018.
Modernization
Despite Romania's budgetary constraints, the country is undertaking the restructuring of its armed forces. This process has three stages, of which one was already accomplished in 2007, with the second stage expected to finish by 2015; the final stage is anticipated to complete by 2025. The program is designed with the aim of modernizing the Romanian armed forces through the acquisition of more technologically advanced equipment that meets NATO standards, at the expense of the number of armed personnel. It should be noted that despite these cutbacks, the Romanian military is still expected to procure second-hand military equipment to 2018.
Cyber Security
Cyber threats have recently become an area of concern, and warrant serious consideration by the government. In 2012, a loss of US$118.9 billion was recorded globally as a result of cyber warfare. Most of the NATO states that are dependent on electronic communication are looking for solutions to counter this threat.
In 2010, a separate division was created within NATO to deal with the emerging security risks with issues related to cyber defense, energy security, non-proliferation of weapons of mass destruction, and terrorism. Romania's NATO ambassador suggested that each NATO state invest collectively in advanced equipment and technology to combat cyber threats within the NATO alliance system. This is expected to be a significant driver of Romanian defense expenditure for the next decade.
ASDReports.com Media contact: S. Koopman - Marketing and Communications
ASDReports.com / ASDMedia BV - Veemkade 356 - 1019HD Amsterdam - The Netherlands
P : +31(0)20 486 1286 - F : +31(0)20 486 0216 - E : stefan.koopman@asdreports.com

back to News