Thursday 22 August 2013, Amsterdam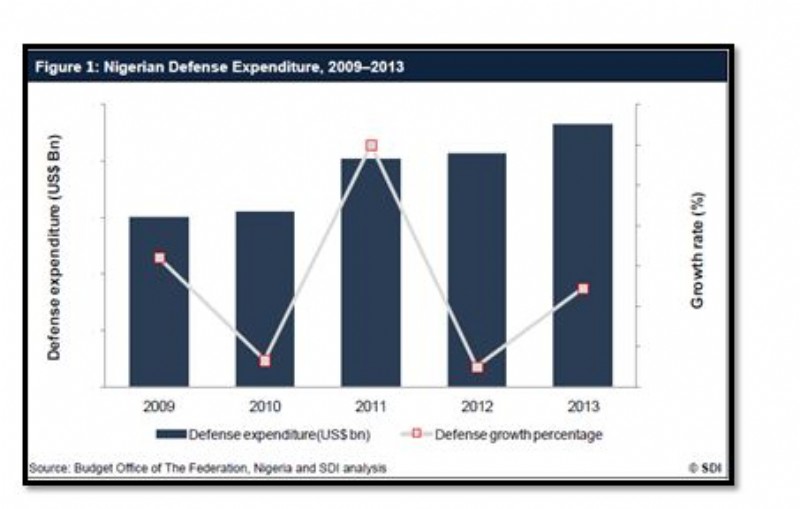 Nigeria's efforts to counter piracy and oil smuggling, and peacekeeping operations are expected to drive the country's military expenditure. Nigeria's defense budget is expected to grow as Nigeria intends to spend a total of US$17.4 bn on its armed forces across the forecast period, and the country's military expenditure is expected to increase at a CAGR of 13.62% to reach US$4.4 bn by 2018, according to a new report: Future of the Nigerian Defense Industry – Market Attractiveness, Competitive Landscape and Forecasts to 2018.
Nigerian military expenditure is expected to be mainly driven by peacekeeping operations and efforts to stop the smuggling of stolen oil.
Drug Trafficking
Historically Nigeria has been a center for drug trafficking in Africa and is reported to produce and distribute a significant amount of illegal drugs, including marijuana, cocaine, heroin, and methamphetamine. As drug trafficking continues to be a problem for the nation, the demand for scanning machines is expected to increase.
The growing threat from Boko Haram and other extremist groups in northeastern states, as well as drug trafficking, are expected to drive the Nigerian government's investments into homeland security. Defense equipment such as marine helicopters, fighters, patrol vessels, and armored personnel carriers are expected to be in higher demand. An under developed domestic defense industry and availability of funds propel the Nigerian government to import from countries that produce low-cost defense equipment.
Piracy and Oil Smuggling
Nigeria is the largest crude oil producer in Africa and generates about 80% of its revenues from oil exports; however, the country is plagued by piracy and oil theft, so loses about 10% of its oil exports. The expanding activities of criminal gangs have caused an upsurge in the number of oil ships attacked by Nigerian pirates in the Gulf of Guinea in the last two years. Pirates not only hold the ship and crew for ransom, but also strip the vessel of oil and other valuable items.
A lack of stringent security measures in Gulf of Guinea and along its borders has also accentuated the threat of oil theft, which cripples the country's economy. In 2011, Nigerian soldiers destroyed nearly 500 illegal oil refineries in the Niger Delta region to stop the smuggling of stolen oil in the country.
Recently, Nigeria had to withdraw its peacekeeping contingent form Darfur to counter the threat from oil smugglers in and around the Niger Delta. The Nigerian government is expected to spend on strengthening its Navy and maritime patrol to deal with oil smugglers and procure necessary equipment over the forecast period. Nigeria's Navy is seeking government approval to acquire up to 49 ships and 42 helicopters over the next ten years to guard the nation's territorial waterways and the Gulf of Guinea.
Armed Forces
Nigeria committed the largest contingent of armed forces and police forces to international peacekeeping operations among the African nations. Nigeria deployed military and police forces in Western Sahara, the Democratic Republic of Congo, Liberia, Sudan, and the Ivory Coast in Africa, Haiti in Latin America, and Timor-Leste in the Asia-Pacific region. In November 2013, the country deployed 186 military personnel to Guinea Bissau as part of the ECOWAS military intervention force for a peacekeeping initiative.
Nigeria also contributes to peacekeeping missions of the Economic Community of West African States Monitoring Group (ECOMOG) in the Ivory Coast and of the African Union in Somalia, and provides equipment and funds for these operations. This involvement in peacekeeping operations will significantly drive the country's defense expenditure over the forecast period, in particular the procurement of armored vehicles and transport aircraft.
ASDReports.com Media contact: S. Koopman - Marketing and Communications
ASDReports.com / ASDMedia BV - Veemkade 356 - 1019HD Amsterdam - The Netherlands
P : +31(0)20 486 1286 - F : +31(0)20 486 0216 - E : stefan.koopman@asdreports.com

back to News