Wednesday 17 July 2013, Amsterdam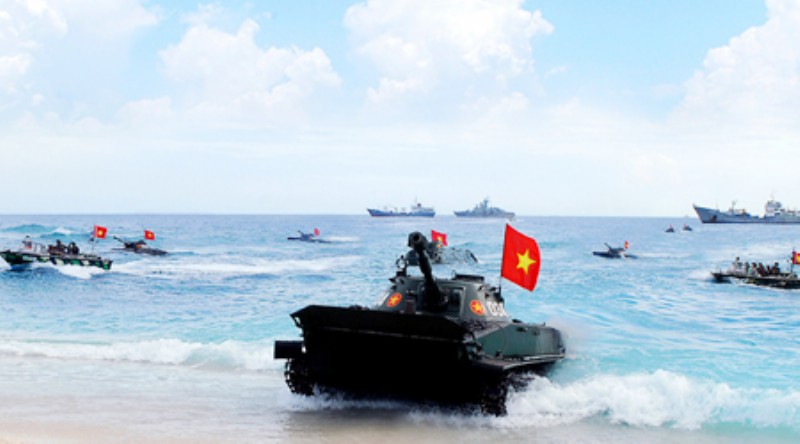 With its booming economy and maritime trade, compounded by its increasingly obsolete military equipment in the face of the growing threat of China, Vietnam's military expenditure is expected to rise significantly over the next five years, according to this new report: Future of the Vietnamese Defense Industry – Market Attractiveness, Competitive Landscape and Forecasts to 2018. Furthermore, it reveals that whilst Russia has historically been the primary supplier of military technology to Vietnam, new opportunities are opening up for European suppliers, but that the overall growth of the market will be limited by a lack of private participants and a lack of transparency in budget allocation and procurement.
Chinese Threat
The growing strength of the Chinese Navy and its assertiveness regarding territorial claims in the South China Sea has compelled the Vietnamese government to enhance its military capabilities with a view to protecting its territory. Thus, it has assessed its current military capabilities and deemed them to be insufficiently advanced to counter any potential aggression from China, which has acted as the catalyst for a comprehensive modernization program that is expected to be the primary driver of the Vietnamese Defense market's growth to 2018.
The procurement of a sophisticated missile defense system is high on Vietnam's list of military priorities, as to counter threats posed by China; it is also in the process of replacing its existing fleet of surface ships with frigates, and is looking to procure anti-submarine warfare technology that will enable its naval defense force to combat potential aggression from Chinese submarines operating in the Vietnam Strait. Additionally, Vietnam is expected to procure fighter aircraft to replace its obsolete MiG-21 fleet.
Russian Supply
Vietnam's domestic defense production capabilities are relatively underdeveloped, and as a result, the country relies on foreign OEMs to fulfill its military requirements. Traditionally, the country has been an importer of weapon systems, as domestic military production is small-scale and technologically inferior. Between 2007 and 2012, Russia emerged as the largest supplier of military hardware, with a vast majority of its imports. The primary focus of Vietnam's military trade with Russia has revolved around the acquisition of surface combat vessels, submarines, and aircraft.
European Expansion
Despite the historic domination of Vietnam's military imports by Russia, European suppliers have recently entered the country's defense market through the direct commercial sale of advanced defense systems. Moreover, Vietnam prefers government-to-government deals when procuring defense systems; the General Import-Export Vanxuan Corporation (VAXUCO) – a military goods importer owned by the Vietnamese Ministry of National Defense (MND) – is the only designated importer of non-dual-use military goods, and is authorized to sign purchases on behalf of the MND. As such, Strategic Defence Intelligence expects developing government-to-government relationships to open up business opportunities over the next five years.
Growth Restrictions
In March 2011, the Vietnamese government passed legislation that prohibits the sale of stakes in state-owned defense companies to the private sector. The legislation also requires that the state will hold 100% of the charter capital in enterprises involving national defense and security, and military held commercial enterprises. This legislation prevents private participation and thwarts any foreign direct investment into the country's defense sector. Furthermore, Vietnam does not give any specifics about the defense budget breakdown or the amount spent on procurement. This lack of transparency within the government budget allocation and procurement plans can encourage investors from entering a country's defense market, and this is expected to be a constraining factor to the growth of the Defense market in Vietnam to 2018.
This report is the result of an extensive research covering the defense industry. It offers in-depth analysis of:
Market opportunity and attractiveness: detailed analysis of the current industry size, and growth expectations during 2014-2018, including highlights of key growth stimulators. It also benchmarks the industry against key global markets and provides detailed understanding of emerging opportunities in specific areas.
Procurement dynamics: trend analysis of imports and exports, together with their implications and impact on the Vietnamese defense industry.
Industry structure: five forces analysis of imports and exports, together with their implications and impact on the Vietnamese defense industry.
Market entry strategy: analysis of the possible ways to enter the market, together with detailed descriptions of how existing companies have entered the market, including key contracts, alliances, and strategic initiatives.
Competitive landscape and strategic insights: analysis of the competitive landscape of the defense industry in Vietnam, providing an overview of key defense companies (both domestic and foreign), together with insights such as key alliances, strategic initiatives, and a brief financial analysis.
Business environment and country risk: a range of drivers at country level, assessing business environment and country risk. It covers historical and forecast values for a range of indicators, evaluating business confidence, economic performance, infrastructure quality and availability, labor force, demographics, and political and social risk.
This will facilitate:
Clear identification of market opportunities and entry strategies to gain or grow market share in the Vietnamese defense industry.
Proper understanding of the competitive landscape of the defense industry in the Vietnam, including key domestic and foreign defense companies, key alliances and strategic initiatives.
A clear understanding of forces operating on the market, and actionable insight on forthcoming developments that will shape the landscape of opportunity in the foreseeable future.
ASDReports.com Media contact: S. Koopman - Marketing and Communications
ASDReports.com / ASDMedia BV - Veemkade 356 - 1019HD Amsterdam - The Netherlands
P : +31(0)20 486 1286 - F : +31(0)20 486 0216 - E : stefan.koopman@asdreports.com

back to News