Friday 24 June 2016, Amsterdam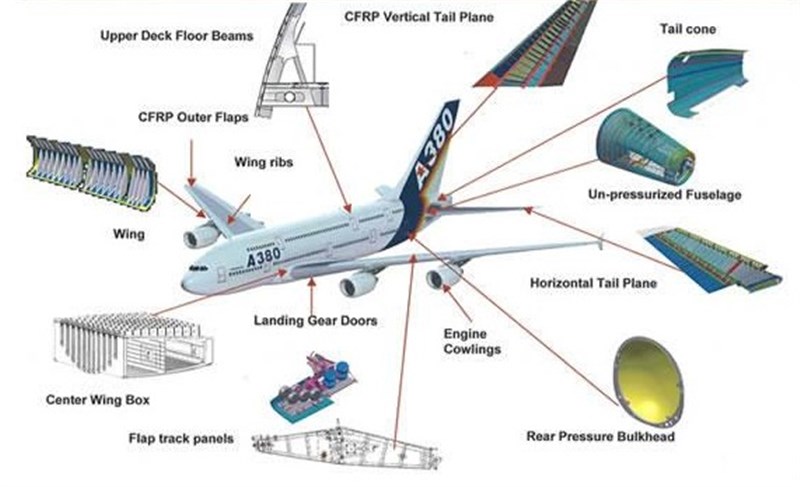 The key player analysis concludes that the aerospace composites market will be worth $9,951m in 2016. Composite materials are being used in increasing quantities as alternatives to metallic structures in aircraft construction. Composites are lightweight with higher strength to weight ratio properties compared to aluminium. The use of composites in aircraft designs reduces fuel consumption, decreases the overall level of harmful emissions and enables aircraft to fly greater distances thus improving operational efficiency.
Amongst the different types of composite materials, carbon fibre reinforced polymers represent the highest market share and growth rates because of increasing consumption in commercial, military and business / GA aircraft. Research, development and innovation in composite materials and manufacturing processes are contributing towards reductions in costs of mass production as well as materials with improved properties. This will continue to drive demand and growth rates across the aerospace composites industry.
The aerospace composites market focuses around countries in North America and Europe, along with a significant amount of activity in Japan. Established industries in both the aerospace and composites domains provide an extensive network of expertise and experience with opportunities to combine resources for development of composites for aerospace applications. Furthermore, Europe and North America are home to many leading aerospace OEMs including aircraft manufacturers. National markets in the Asia Pacific region are expanding their capabilities in composites and aerospace industries with the potential to alter the global distribution of the market. Fleet expansion and renewal is boosting demand for fuel efficient next generation aircraft resulting in multinationals to increase their presence in these regions to capitalise on new opportunities. Cheaper raw materials and production costs are added incentives to develop the aerospace composites market beyond its traditional geographic locations.
This 256 page report quantifies and analyses the aerospace composites market and its related submarkets, discussing the key trends, opportunities and challenges that the industry is facing or is expected to experience in the next few years. The report analyses key regional and national markets in which aerospace composites are most prevalent. The report also profiles the leading companies in the aerospace composites industry with financial performance indicators, contract details and product information.
ASDReports.com Media contact: S. Koopman - Marketing and Communications
ASDReports.com / ASDMedia BV - Veemkade 356 - 1019HD Amsterdam - The Netherlands
P : +31(0)20 486 1286 - F : +31(0)20 486 0216 - E : stefan.koopman@asdreports.com

back to News