Thursday 17 November 2011, Amsterdam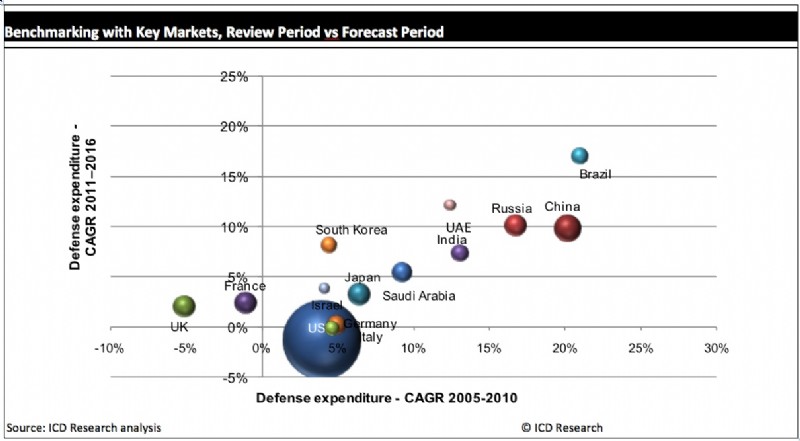 Russia is among the world's leading defense spenders, with the country's defense budget recording a CAGR of 15.36% over the review period, a higher growth than leading Western and European spenders such as the US, France and Russia. Also, during the forecast period, Russia's defense budget is expected to record a CAGR of 19.91%, the highest anticipated growth among the world's leading defense spenders (reference see figure).
Although Russia is the world's second-largest arms exporter, accounting for 23% of all arms transfers worldwide from 2004 to 2009, its exports are primarily dependent on Soviet-era equipment that is becoming increasingly outdated. As a result, from 2011 to 2016 (the forecast period), Russia is planning to invest heavily in research and development in order to both ensure the continued export growth of the country's defense market and to offer updated equipment to its own armed forces. This latter need was acutely illustrated by Russia's 2008 conflict with Georgia, which exposed the inadequacy of much of Russia's defense equipment. In order to rectify this, the country's government has initiated a ten-year plan which aims to extensively modernize the Russian armed forces by 2021 and is expected to make the Russia the world's third-largest defense spender by 2016.
As Russia has the world's longest border and is rich in natural reserves, defense procurements to enhance border protection and equip the country's maritime forces are expected to drive homeland security expenditure over the forecast period. Moreover, expenditure on surveillance equipment and geographical information systems is also expected to increase over the forecast period, in order to enable the Ministry for Civil Defense, Emergencies and Disaster Management (EMERCOM) to protect key infrastructure, such as its natural reserve mining and production facilities, and to reduce the threat of terrorism from rebels belonging to former Soviet entities.
Russia is the world's second-largest arms exporter, with its systems in use in 82 countries. Despite the age of these systems, they are preferred by many countries due to their affordability. In order to upgrade the defense systems it currently manufactures and compete with the technically superior defense systems manufactured by foreign OEMs, Russia increased its research and development (R&D) budget by 25% in 2009. During 2010–2015, R&D expenditure is forecast to account for approximately 13% of Russia's total defense budget.
Following the South Ossetia armed conflict with Georgia over a territorial dispute in 2008, Russia initiated a military reform program in order to rectify the newly-exposed shortcomings in its defense systems. Soviet-era command, control and communications and intelligence systems, coupled with aged vehicles and machinery, severely limited the country's armed forces' capabilities. As part of the military reform, increased spending in the following areas is expected to contribute to an increase in overall defense expenditure:
Raising the effectiveness of command and control systems.
Improving officers' training systems.
Equipping armed forces with satellite-guided precision munitions.
Reducing the armed forces in order to increase pension expenditure, improve salaries and provide housing.
Updating equipment and weapon systems in various stages to achieve a modernized military by 2020.
ASDReports.com Media contact: S. Koopman - Marketing and Communications
ASDReports.com / ASDMedia BV - Veemkade 356 - 1019HD Amsterdam - The Netherlands
P : +31(0)20 486 1286 - F : +31(0)20 486 0216 - E : stefan.koopman@asdreports.com

back to News