Friday 25 January 2013, Amsterdam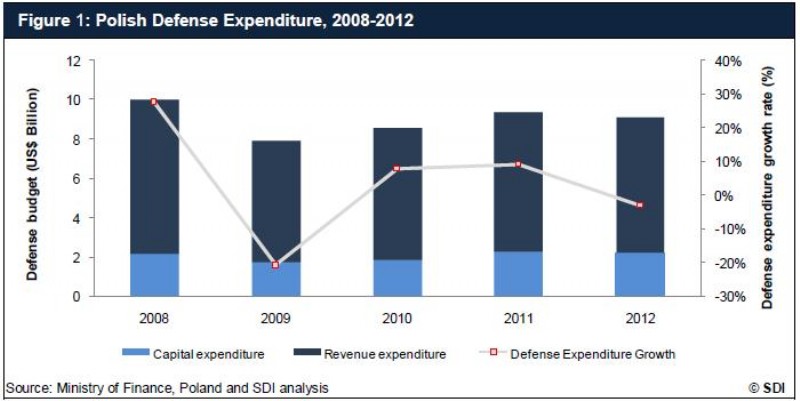 The Polish defense expenditure recorded a CAGR of -2.41% during the review period (2008-2012), and valued US$9.1 billion in 2012. Due to the country's modernization plans for the Polish Armed Forces, its defense expenditure is expected to grow at a CAGR of 7.2% during the forecast period (2013-2017), to value US$12.9 billion in 2017. Throughout the forecast period, the country is expected to invest US$11.3 billion in the acquisition of military hardware, and US$45.1 billion will be used as revenue expenditure, which includes the upkeep of salaries for personnel and the maintenance of existing equipment (see graph).
The current offset law requires foreign investors to direct the majority of their offset obligations into existing and largely unreformed local defense companies. A significant number of these companies are state-owned, with inefficient cost structures and Soviet-style management. Foreign OEMs often struggle to meet their offset obligations and, as such, are required to pay a penalty. All foreign contractors are contractually obliged to pay the penalty following the non- or under-performance of the offset policy which is specified at the time of offset agreement, regardless of whether the foreign firm was responsible for the failure or not.
The Polish Public Procurement Law faces the challenge of excessive interference from high-level government officials with the power to manipulate tenders to the disadvantage of foreign bidders. The acquisition process preceding the 2003 F-16 tender, worth US$3.5 billion, lacked transparency and faced the obstacle of corruption. Three foreign contractors entered the bid for this contact: Lockheed Martin with F-16C/D Block 52+, Saab/BAE Systems with JAS-39 Gripen, and Dassault with Mirage 2000-5 Mk II. The details of the offers made by Saab/BAE Systems and Dassault are not in the public domain, which indicates a lack of transparency and possible corruption in the bidding process
ASDReports.com Media contact: S. Koopman - Marketing and Communications
ASDReports.com / ASDMedia BV - Veemkade 356 - 1019HD Amsterdam - The Netherlands
P : +31(0)20 486 1286 - F : +31(0)20 486 0216 - E : stefan.koopman@asdreports.com

back to News