2014-2020 Cumulative Market: $14.8 Billion, Segmented into 89 Submarkets
Against the backdrop of doom and gloom predictions by some managers in industry, Homeland Security Research Corporation analysts forecast a strong comeback of the X-ray security industry generating a solid 7% CAGR. The growth will be boosted by three main drivers:
The expansion of the Asia Pacific secured facilities and aviation security markets
The replacement of more than 40,000 outdated X-ray systems
Despite a decade of R&D aiming at new baggage, luggage, cargo and mail screening technologies, there is no modality on the horizon that can competitively challenge the cost-performance of the X-ray based screening technologies.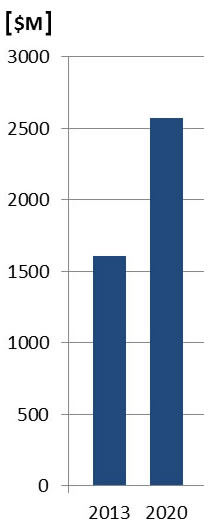 Figure 1. Global X-ray Security Screening Market* ($M) – 2013, 2020
(*) Including system sales and aftersale revenues
According to the new report, "X-ray Security Screening: Technologies and Global Industry & Market – 2014-2020", the global X-ray security screening industry revenues (including systems sales and aftersales service and upgrades) is forecasted to grow from $1.6 billion in 2013 to $2.6 billion by 2020.
With more than 690 pages, 254 tables and 324 figures, the new report is the most comprehensive review of the multibillion-dollar global X-ray security screening market, industry and technology trends published to date. The report analyzes each and every dollar of the industry revenues and provides data and analysis on 89 submarkets including submarket 2011-2013 data and 2014-2020 forecasts and analyses. The report addresses the "money trail" of each dollar spent via 5 viewpoints:
5 geographical regions
20 countries
3 vertical markets
4 application-technologies
System sales and aftersale revenues
Figure 2. Global X-ray Security Market Report Segmentation
The report analyzes the X-ray industry and technologies from several perspectives, including:
Current and pipeline technologies

, such as single energy X-ray, dual energy X-ray, backscatter X-ray, multi-view X-ray and coherent X-ray

Competitive environment

: 16 leading X-ray vendor profiles including their products, products description and prices. Companies include American Science and Engineering, Astrophysics Inc., Auto Clear, Eurologix Security, Gilardoni, L3 Communications , LIXI, Morpho Detection, Nuctech , Rapiscan Security Products, SAIC, Scanna Msc., Smiths Detection, Vidisco.

20 countries airports

: 1,195 airports with 2,352 million screened passengers (84% of global passengers). For each country, all the airports with over 100,000 annual screened passengers are presented including details on the number of screened passengers and the annual growth rate

Market & industry analysis

: e.g., market drivers & inhibitors, X-ray security industry SWOT analysis

Business environment:

e.g., competitive analysis
Business opportunities and challenges