Chile Mining Report Q2 2014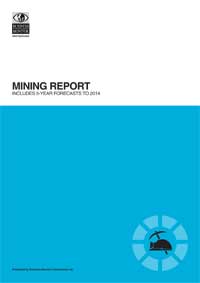 Our View: We expect just modest mining sector growth in Chile through 2018, forecasting average annual growth of 1.8%, slower than in previous years. Major miners will continue to develop several large projects, as the country's political and business environments remain stable and the country possesses significant mineral reserves. Rising costs and falling prices though will limit sector growth and result in more conservative expansion and acquisition plans among major miners.

The Chilean mining sector will continue to rely on copper production for the foreseeable future, with it accounting for 60% of the country's total exports. The pipeline of copper projects and the country's global dominance in copper production will ensure the country's lead despite falling ore grades and more modest production growth. With future global supply looking relatively robust though and Chinese fixed asset investment slowing, we forecast falling demand growth and hence lower prices. Indeed, we see prices averaging US$6,800/tonne in 2014, which will heavily affect the Chilean economy. Despite weakness in 2013, copper prices remain elevated by historical standards, encouraging production for the time being as major miners and smelters maintain profitability.

This report is part of BMI's country analyses series in multiple markets. If you buy multiple reports from this series you will receive below quantity discounts.
With the link below 'More reports' you will go to the overview page with all reports part of this series.
Quantity
Price per Report
2 reports
US$1,180.00
3 reports
US$1,120.00
4 reports
US$1,060.00
5 reports
US$1,005.00
6 reports
US$945.00
7-20 reports
US$885.00
21-100 reports
US$770.00
More reports with this discount.
* - discounts are calculated in your cart

Mar 2014
BMI
88 pages
Country Research
ASDR-99890