Thursday 11 March 2021, Amsterdam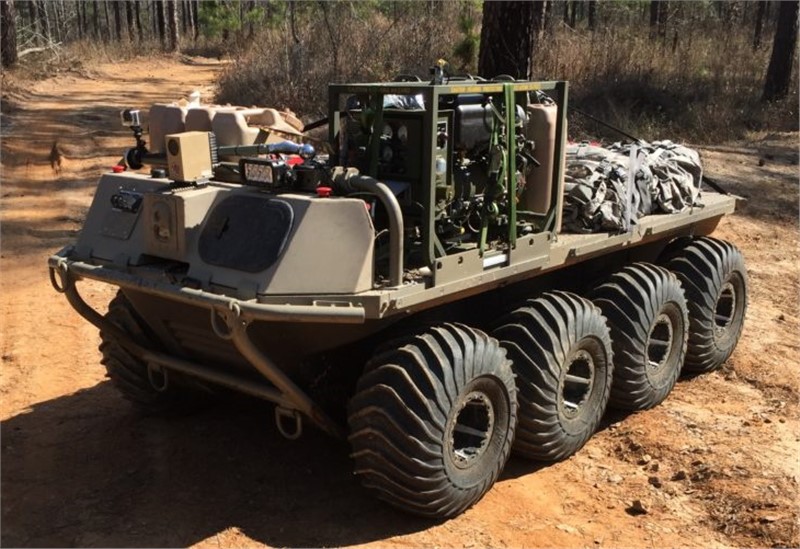 The development of lithium-ion batteries is impacting most electronic industrial sectors and will have far-reaching effects on various markets. The defense sector, which is expected to see a shift in the way batteries are used by various defense applications, is one of the industries that are on the verge of such a radical transition. For over a decade, lithium-ion batteries have been extensively used in military applications. Tactical radios, thermal imagers, ECM, ESM, and portable computing are some of these man-portable applications. The use of lithium batteries is expected to further expand over the next five years to include heavy-duty platforms, such as military vehicles, vessels, cover applications, aircraft, and missiles. This abrupt shift is due to the result of a combination of many factors. The transition in the market is primarily influenced by the unprecedented shift in the global electric vehicle industry.
Changes in this rapidly growing sector have contributed to a reduction in the cost of lithium-based energy from USD 1,000/kWh from a decade ago to only USD 200/kWh currently. In 2022, the price is projected to decline further to less than USD 100 / kWh. This shift is also the outcome of the availability of energy sources of high density that allow long silent watch shifts and improved power efficiency. Coupled with the new advances in lithium battery safety and durability that no longer deter defense contractors and military users, Li-ion batteries are a reliable and safe option to old lead-acid batteries today.
The modern generation of lightweight Li-Ion batteries is much more efficient than conventional lead-acid batteries, providing advanced military forces with unprecedented benefits. Standardized for armored and combat vehicles, new lithium rechargeable technology is now sufficiently mature to transition from the early adopter process to the development phase. After the launch of several major armored vehicle procurement programs requiring premium energy, the market for such technology is increasing. A superior energy density of a factor of 3, combined with a 10-year lifetime maintenance-free lithium battery, is projected to dramatically reduce the costly field logistics of existing vehicle batteries.
Both the Department of Defense (DoD) and the Department of Energy (DOE) have active initiatives to establish a manufacturing capacity for rechargeable lithium-ion batteries in the United States. The first for space-qualified applications and enhanced soldier-portable batteries (SPBs) and the latter for electric and hybrid vehicles. However, a domestic producer of soldier portable batteries would not profit from the economy of scale enjoyed by Asian battery manufacturers due to a much higher demand for batteries for electronic devices (billions per year compared to millions for defense applications). This would result in the Department of Defense (DoD) paying a premium unless that manufacturer can satisfy the customer market as well.
For vehicle battery technologies, military operations have specific requirements. Batteries are only used for SLI features in many automotive applications, such as starting the engine. Military operations such as a silent watch, however, need vehicle batteries to provide engine-off power to the electrical equipment of a vehicle for extended periods of time where they are deep-discharged regularly. When the engine is on, the batteries on a military land vehicle may also be needed to conduct load-leveling where they compensate for the difference between the power provided by a large electrical load and the power generated. This implies that a battery must be able to deliver high power in a military land vehicle to fulfill the starting requirements of the engine, must be able to perform load leveling, and must also be capable of deep cycling to optimize the amount of energy it can produce, thereby optimizing the longevity of the silent watch.
As power and energy requirements on modern military land vehicles continue to grow due to the greater amount of electronic equipment, the demand for vehicle battery technologies is increasing. Traditional lead-acid batteries used in vehicles have reached the limit of their performance capabilities in these applications, due to which alternative battery technologies are now being considered.
The harsh environmental conditions to which vehicles are frequently exposed are another component of military operational requirements. Temperature extremes, high vibration, high impact, dust, dirt, and moisture define these conditions. Any battery technology installed into a military land vehicle must be able to withstand these conditions or must be stored in a container capable of withstanding these conditions. Vehicle battery technologies, for example, must be capable of meeting the cold revving requirements of vehicles by supplying high current at very cold temperatures for a few seconds.
A primary concern and limitation when integrating new batteries are the physical dimensions of a battery (or a group of batteries) and the space available on a vehicle. The battery (or batteries) must be able to fit into an existing vehicle without substantial structural alteration for ease of integration. To decrease the probability of vehicle modifications, it is required that drop-in replacement batteries have very close form factors to current batteries. Also, while batteries constitute a very small percentage of a vehicle's total weight, theoretically, drop-in replacement batteries would not increase the overall weight of the vehicle.
When powered, conventional lead-acid batteries are relatively durable in that they can tolerate a large range of current without battery damage. In float charging, they can absorb the excess current to balance themselves intrinsically. Therefore, vehicles have not needed charging control systems in the past. However, alternative battery technologies such as Lithium-Ion batteries have much stricter limits on charging current to ensure battery safety since they cannot intrinsically absorb excessive charging current. Additional charging controls are likely required to be added to military land vehicles using these batteries. This may be extended more generally to a wider control suite to control several aspects, including battery voltage, temperature, and pressure, to ensure battery safety during charge and discharge and to optimize battery cycle life.
ASDReports.com Media contact: S. Koopman - Marketing and Communications
ASDReports.com / ASDMedia BV - Veemkade 356 - 1019HD Amsterdam - The Netherlands
P : +31(0)20 486 1286 - F : +31(0)20 486 0216 - E : stefan.koopman@asdreports.com

back to News