Monday 19 August 2013, Amsterdam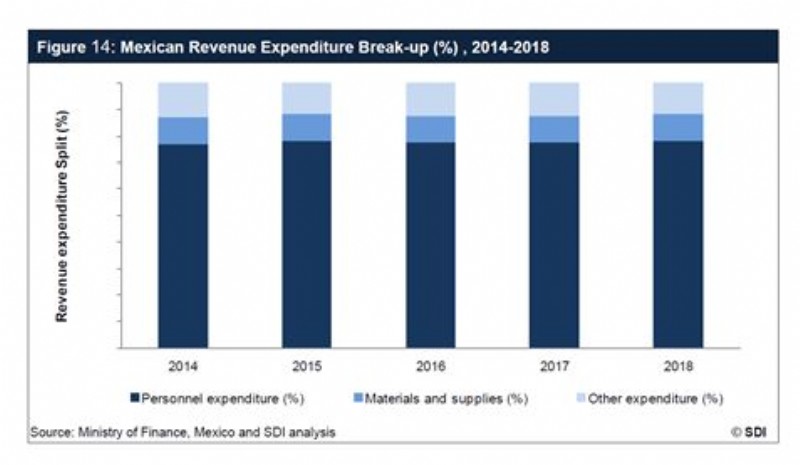 Driven by the ever-present threat of powerful drug cartels, Mexico's defense budget is expected to grow at a CAGR of 11.2% over the next five years, according to the new report: Future of the Mexican Defense Industry – Market Attractiveness, Competitive Landscape and Forecasts to 2018.
Although Mexico is not under the immediate threat of external aggression, its fight against drug cartels armed with sophisticated weaponry has resulted in the deployment of military forces alongside police forces to control the threat.
Drug Trafficking
Mexico is reported to produce and distribute a significant amount of illegal drugs, including marijuana, cocaine, heroin, and methamphetamine. Mexican drug cartels – of which there are believed to be seven key players - are reported to generate annual revenues of US$64 billion, are also linked to broader networks of organized crime, which includes the trafficking of weapons and migrants, money laundering, vehicle theft, kidnappings, and extortion.
The primary strategy of the Mexican government to counter drug trafficking has been the massive deployment of soldiers and the federal police in 14 states across the country; however, despite these efforts, drug trafficking organizations have expanded their reach, and nearly 80 Mexican municipalities are considered to be dominated by the drug cartels. Additionally, with some cartels expanding their operations beyond drug trafficking to extortion, kidnapping and pirated goods, the imperative has never been stronger for the government to take firm action.
The government's campaign against drugs gained momentum after President Felipe Calderón took office in December 2006, since which time government statistics claim over 70,000 people have been killed in drug-related violence in Mexico. Moreover, the cartels are now generating crime in an attempt to force the government to cease its campaign; for example, Pemex - the state-owned petroleum company – has been repeatedly targeted by cartel aggression, and is estimated to lose US$750 million worth of fuel and oil from its pipelines every year.
Although the US provides special assistance through its intelligence center – which focuses on identification of the drug criminal network, and the training of special operations teams – the ongoing fight against the drug cartels is expected to be a key driver of Mexico's defense expenditure to 2018.
Arms Trafficking
Violence is an inherent element in drug trafficking, and in Mexico this includes beheadings, extortion, kidnapping, car bombings, public hangings, and the assassination of civilians and Government officials. The thriving drug trade has resulted in illegal arms trafficking along the US/Mexico border, and has benefitted directly from the expiration of the US assault weapons ban in 2004. According to the Bureau of Alcohol, Tobacco, Firearms and Explosives (A.T.F.), between 2005 and 2009, 90% of the weapons seized in Mexico were traced back to the US. This illegal activity has an impact on both sides of the border, and this has motivated the US government to aid Mexico's fight against the drug cartels, providing aid amounting to US$1.4 billion. Additionally, the US has supplied Mexico with state-of-the-art military hardware, including Black Hawk helicopters and surveillance drones.
The Mexican government has formed a special commission to review its customs operations and curb the illegal trade of arms at the border. To reduce arms trafficking, the MoD is expected to invest in surveillance and intelligence technologies such as security surveillance cameras, access control systems, cybersecurity administration tools, electronic identification documents, e-passports, automated border crossing systems, and CCTV systems, in addition to expanding on the 45,000 troops already deployed to combat cartel activity. Thus, it can be seen that the sophisticated equipment and the highly trained nature of the cartels is putting increasing pressure on both the US and Mexican governments, and will be a key driver of defense expenditure in Mexico to 2018.
Low Wages
Low wages are often blamed for the increase in drug trafficking in Mexico, as they are believed to ferment corruption in the security forces, as some soldiers try to boost their income by working for drug traffickers. Indeed, Los Zetas – one of Mexico's most notorious cartels – was even founded by troops from the army's special forces.
Mexico's economy has a weak social security policy framework and labor benefits; labor laws are not very friendly, with rigid rules that were last overhauled in 1970. The challenges presented include probationary periods, low wages, part time jobs, pensions, and the sacking of employees. Additionally, Mexican soldiers earn just two thirds of the wages of their Colombian counterparts, even though Mexican GDP is nearly 50% higher; consequently, the Mexican government has increased personnel expenditure in the 2012 defense budget to 80% of the total revenue expenditure, from 72% in 2011.
Money Laundering
Money laundering is a significant challenge in the Mexican economy, considering the magnitude of the finances involved: estimates place the total funds being laundered between US$10-45 billion per year. As criminal organizations expand their influence and develop new methods to launder their illicit funds, they are expanding into international criminal networks formed out of mutual interest; the ways and means of this laundering are varied and complex – for example: the Zetas gang has, according the to US federal agency, laundered money through US horse breeding.
The Mexican Government passed an anti-money laundering law in October 2012 that limits the cash purchases of real estate, cars, and other luxury goods in an effort to stem the cartels' money laundering activities. The focus lies not only on attacking the robust financial structure of the criminal activities, but also in detecting the transactions involving illegal proceeds. This is expected to drive homeland security spending to 2018.