Monday 19 August 2013, Amsterdam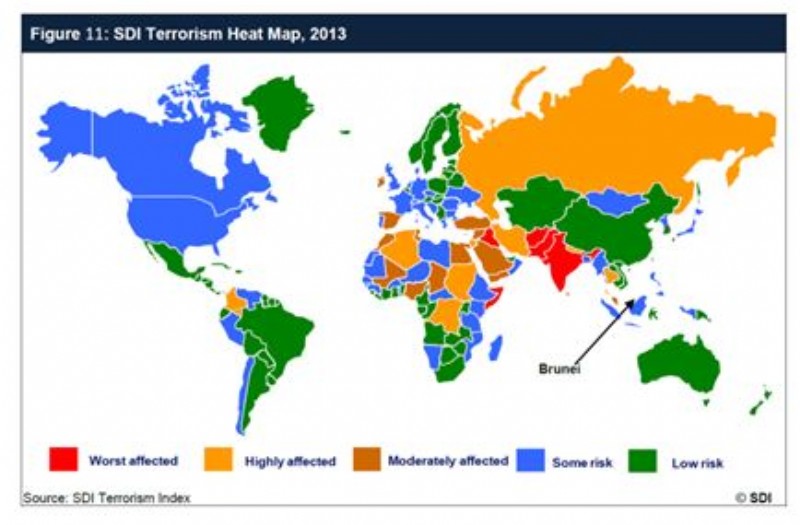 Modernization initiatives, border disputes, and its efforts in preventing international terrorism will see the growth of Brunei's military expenditure continue the trend of growth exhibited over the past five years to 2018, according to Strategic Defence Intelligence's new report: Future of the Bruneian Defense Industry – Market Attractiveness, Competitive Landscape and Forecasts to 2018. That said, the rate of expansion will be significantly slower than the CAGR of 10.3% exhibited between 2008 and 2013, with a more modest CAGR of 3.5% forecast for the next five years, taking the total expenditure to US$0.6 billion by 2018.
MARKET OPPORTUNITIES

Brunei's defense expenditure over the next five years will be driven by factors such as a much-needed modernization program, international terrorism, and border disputes.
Border Disputes
The Spratly Islands – situated in the South China Sea – are abundant in resources such as oil, natural gas, minerals, and seafood. Oil and natural gas reserves in the region are estimated at 17.7 billion tons, making it the fourth largest reserve bed in the world.
Brunei is involved in a dispute over the ownership of these islands with China, the Philippines, Vietnam, Taiwan, and Malaysia; whilst some of this conflict may have cooled, with Brunei and Malaysia signing a peace treaty in 2008, the aggressive stance adopted by China casts a threatening shadow over peace in the region.
Consequently, investments in border security is expected to be a key driver of Brunei's expanding defense expenditure over the next five years.
International Terrorism
There is a growing concern that Islamic terrorist groups - such as Jemaah Islamiyah - may carry out terrorist attacks on soft targets in Southeast Asia, including Brunei. Although there have been no instances of violence in recent years, experts believe that terrorism should be viewed as a long-term threat that requires a number of different measures, including consistent military capability enhancement. This view is anticipated to drive Brunei's defense expenditure during the forecast period.
Modernization Initiatives
The government is looking to upgrade its armed forces through the utilization of new military technologies, higher quality training, and the strengthening of multilateral partnerships; its interest in buying SS2 assault rifles manufactured by Indonesian Pindad and increasing its fleet of CN-235 medium transport airplanes adds credence to this intent, although the final delivery date is undisclosed.
In previous years, Brunei has failed to focus on the development of its security capabilities. However, aforementioned factors such as international terrorism and border disputes, along with transnational crimes such as smuggling and arms trafficking, and the need to develop greater general deterrent capabilities, have promoted government plans to enhance its military capabilities. This is expected to be a key driver of defense expenditure in Brunei to 2018.
ASDReports.com Media contact: S. Koopman - Marketing and Communications
ASDReports.com / ASDMedia BV - Veemkade 356 - 1019HD Amsterdam - The Netherlands
P : +31(0)20 486 1286 - F : +31(0)20 486 0216 - E : stefan.koopman@asdreports.com

back to News