Email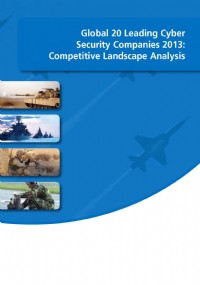 The global market for cyber solutions has been a topic of increasing interest in a variety of industries and public sector organisations for several years and for a number of reasons. The first of these is the indisputable rise of cyber crime, malware attack, information theft and hacking which has accompanied the expansion of the internet. Threat of attack via cyberspace has in recent years become a real concern not only of public organisations guarding state secrets, but also of commercial entities seeking to remain profitable.
Whether the threat is from loss of valuable data, disruption to financial services, release of intellectual property, the shutting down of critical national infrastructure or simply the reputational damage of being known to have been compromised, the possibility of cyber attack represents both a danger to national security and a potential source of major losses.
The stakes are high; we have assessed the cyber security market will reach $68.34bn in 2013. As global defence budgets diminish, defence contractors are increasingly taking an interest in the growing area of cyber security through acquisitions and organic growth, which is posing a challenge to incumbent IT security providers.
What makes this report unique?
We consulted widely with industry experts and has included full transcripts from interviews with BAE Systems Detica, Booz Allen Hamilton and Finmeccanica's Selex ES within this report. As such, our reports have a unique blend of primary and secondary sources providing informed analysis. This methodology allows insight into the key drivers and restraints behind market dynamics and competitive developments, as well as identifying the technological issues. The report therefore presents an ideal balance of qualitative analysis combined with extensive quantitative data including company market share, revenue and contract income - all identifying strategic business opportunities.
Why you should buy Global 20 Leading Cyber Security Companies 2013: Competitive Landscape Analysis
- The report comprises 169 pages
- 140 tables, charts, and figures quantifying and analysing the company involvement
- BAE Systems Detica
- Booz Allen Hamilton
- Finmeccanica's Selex ES
- The report details the global share of the cyber security market held for the 20 largest companies
- Read analysis of each leading company's performance and outlook.
Understand the competitive landscape with profiles of the 20 leading companies in the cyber security market including details of significant cyber security contracts, product & services, and analysis of their regional emphasis and strategy.
- BAE Systems PLC
- Boeing Company
- Booz Allen Hamilton Inc
- Computer Sciences Corporation (CSC)
- EADS Group
- Finmeccanica Group
- General Dynamics Corporation
- Hewlett Packard Company
- International Business Machines Corporation (IBM)
- Intel Corporation
- Kaspersky Lab
- L-3 Communications Holdings Inc
- Lockheed Martin Corporation
- Northrop Grumman Corporation
- Raytheon Company
- Science Applications International Corporation (SAIC)
- Sophos PLC
- Symantec Corporation
- Thales Group
- Trend Micro Inc
- STEP analysis of competitive factors: social, technological, economic and political, factors revealing what drives and restrains companies in the cyber security market
How the Global 20 Leading Cyber Security Companies 2013: Competitive Landscape Analysis report can benefit you
This report is for anyone who requires concise, accurate analysis of the cyber security market. You will discover market and technological trends, predictions and expert opinion providing you with independent analysis derived from our extensive primary and secondary research. Only by purchasing this report will you receive this critical business intelligence revealing where revenue growth is likely and where the lucrative potential market prospects are.
If you buy our report today your knowledge will stay one step ahead of your competitors. Discover how our report could benefit your research, analyses and strategic decisions, saving you time. To gain an understanding of how to tap into the potential of this market and keep one step ahead of the competition you must order now our report Global 20 Leading Cyber Security Companies 2013: Competitive Landscape Analysis.