Since the 1960s few weapons have held as much promise and have consistently failed to live up to that promise as Directed Energy Weapons (DEW). Over the past few years, however, even as most countries have scaled back their expectations and endowment from the highs of decades past, DEWs have steadily and quietly matured. While more moderate in power than the ambitious Airborne and Space-Based Laser programs of the US & Soviet Union, today's DEWs have reached a point of operational maturity.
Directed Energy Weapons are attracting ever increasing R&D funds and there is no military organization and branch that's not looking into ways to integrate them into their arsenal. Consequently, we estimate the Global Directed Energy Weapons market will be valued at about
$1.67 bn
in 2017, growing to more than $4bn in 2025.
This report examines, analyzes, and predicts the evolution of technologies, markets, and outlays (expenditures) of Directed Energy Weapons from 2017 till 2025. The report examines each of these markets geographically, focusing on the top 95% of global markets, in the United States, Europe, and Asia.
By Scenario
Scenario I - Global Steady State – Current Generation DEWs Are Still Evolving
Scenario II - Current Generation DEWs Have Evolved Into Mature Systems
By Addressed Technologies
This report addresses the following broad based technologies:
High Energy Laser Weapons
High Power Microwave Weapons
Particle Beam Weapons
By End-Users
Ship Based Directed Energy Weapons
Airborne Directed Energy Weapons
Land Based Directed Energy Weapons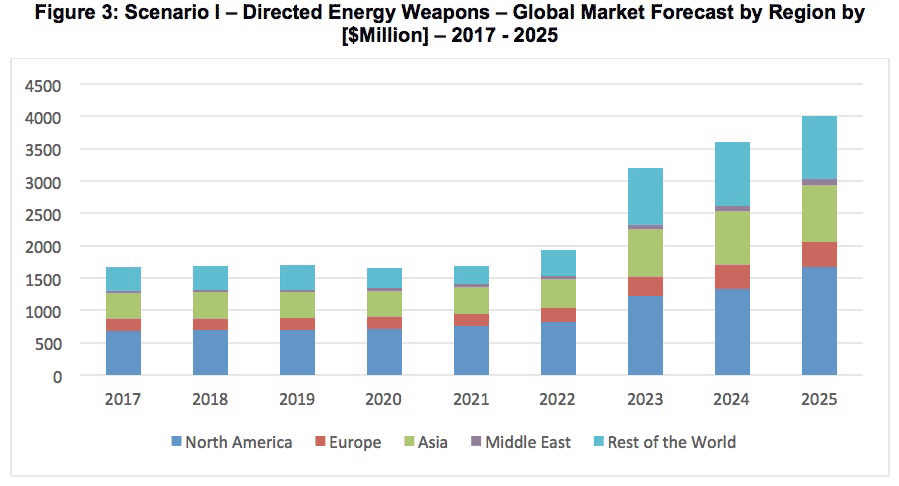 By Geography
North America
Europe
Asia
Middle East
The report also includes a detailed company overview of the 12 leading companies active in Directed Energy Weapons:
Airbus, Boeing, IAI, Lockheed Martin, Leonardo, MBDA, Northrop Grumman, Rafael, Raytheon, Rheinmetall, Saab and Thales.
Major Findings
The most significant benefit is fielding these nascent directed-energy capabilities, however, is that they will start the crucial process of integrating a new technology into operations, with the attendant innovations required in organization, training, concepts of operation and doctrine.
New electrically powered, solid-state lasers (SSLs) may be the most promising alternatives for laser weapons that can be mounted on large mobile platforms such as surface naval vessels
Previous high-profile DE programs failed to deliver on promises of game changing capabilities. These failures have increased the military's reluctance to adopt a new generation of DE weapons concepts that are based on significantly more mature technology.
DEWs will have to be proven in combat before militaries around the world grasps their full potential.
Apart from the US, China, Russia, Germany and India have stepped up efforts to design DEWs weapons that can be used in the battlefield. These include high power radio frequency weapons, high energy lasers, and particle beam weapons, with effects ranging from satellite jamming to target damage.
Who is This Report For?
This report is a must, particularly if you are one of the following:
Business Leaders & Business Developers
Defense Primes
Electrical Component Manufacturers
Software Developers
Government Policy Setters

The report also analyses and forecasts, amongst others, these issues related to the Global Directed Energy Weapons Market :
Changes In Procurement Patter of Militaries Globally
PEST & SWOT Analysis
Industry Analysis & Market Analysis
Major R & D Activities
Leading Companies In This Industry
Furthermore, the report examines global regulatory and political trends that are led by international military organizations like the North Atlantic Treaty Organization (NATO) and the strong influence these policies are having on these markets and technologies