The Marine Satellite Communications Market 2012-2022
Published: Nov 2012 -
Pages: 124 -
Publisher: Visiongain -
Report code:
ASDR-39980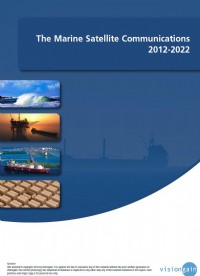 Satellite communication in the marine sector, outside of the military sphere, is seeing a growing interest in the use of VSAT due to its dual effect of both optimising operational efficiency and improving crew welfare. While shipping companies are notorious late adopters of technology, the benefits of VSAT will lead to strong market growth in this sector. We have determined that the value of the global marine satellite communications market in 2012 will reach
$755.8m
, and will have a unique forecast through to 2022.
What makes this report unique?
We consulted widely with industry experts and full transcripts from these exclusive interviews are included in the report. As such, our reports have a unique blend of primary and secondary sources providing informed opinion. The report provides insight into key drivers and restraints behind developments, as well as identifying leading companies. The report also provides a unique blend of qualitative analysis combined with extensive quantitative data including global, VSAT, MSS, % Band and VSAT applicable vessel submarket forecasts from 2012-2022 - all highlighting key business opportunities.
Why you should buy The Marine Satellite Communications Market 2012-2022
124 pages of comprehensive analysis
6 Exclusive interviews with experts from-

- KVH Industries Inc., a leading satellite communications industry with 2,500 terminals in the maritime VSAT market
- Harris CapRock, a leading satellite communications company competing in the maritime VSAT market
- NUSI- National Union of Seafarers of India, one of the largest seafarer communities in the world
- PSU- Philippines Seafarers Union, the largest seafarer community in the world
- iOra, a leading provider of data replication solutions.
- Orange Business Services, a leading satellite communications company, which has recently entered the maritime VSAT market

68 tables, charts, and graphs
Global marine satellite communications market forecasts between 2012-2022
9 marine satellite communications submarket forecasts from 2012-2022

- VSAT Market
- MSS Market
- VSAT Terminal Sales Market
- VSAT Services Market
- L Band % Share in the Major Shipping Fleet
- C Band % Share in the Major Shipping Fleet
- Ku Band % Share in the Major Shipping Fleet
- Ka Band % Share in the Major Shipping Fleet
- Number of Vessels adding VSATs

A SWOT analysis of the marine satellite communications market
A Porters 4 corner analysis of competitors for of the marine satellite communications market
Nine leading VSAT companies identified and profiled:

- EADS- Astrium, Vizada, Marlink
- Globe Wireless
- Harris Corporation- Harris CapRock
- Inmarsat- Ship Equip, Stratos Global Corporation
- KVH Industries, Inc
- MTN Satellite Communications
- NSSL Global
- Orange Business Services
- Speedcast

You can order this report today
Gain an understanding of how to tap into the potential of this market by ordering The Marine Satellite Communications Market 2012-2022