The Commercial Aircraft Modernisation, Upgrade and Retrofit Market 2012-2022
Published: Aug 2012 - Pages: 137 - Report code: ASDR-30746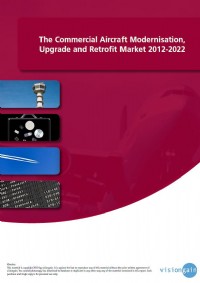 In challenging economic times airlines are constantly looking at ways in which they can increasing the value of and extend the life span of their aircraft. The development of new and advanced technologies has meant that almost every part of the aircraft can now be modified to improve efficiency, aid the pilot and enhance the flying experience of the passenger. With the global demand for air travel opening up new opportunities for retrofit providers, we have determined that the value of the global commercial aircraft modernisation, upgrade and retrofit market in 2012 will reach $12.2bn.
What makes this report unique?
We consulted widely with industry experts and full transcripts from these exclusive interviews are included in the report. As such, our reports have a unique blend of primary and secondary sources providing informed opinion. This approach allows insight into the key drivers and restraints behind contract and programme developments, as well as identifying the leading companies. The report also presents a unique blend of qualitative analysis combined with extensive quantitative data including global, submarket and regional markets forecasts from 2012-2022 - all highlighting strategic business opportunities.

Why you should buy The Commercial Aircraft Modernisation, Upgrade and Retrofit Market 2012-2022
137 pages of comprehensive analysis
3 Exclusive interviews with experts from-
- Universal Avionics Systems Corporation
- TIMCO Aviation Services
- ARINC Incorporated
78 tables, charts, and graphs
Global commercial aircraft modernisation, upgrade and retrofit market forecasts between 2012-2022
4 Commercial Aircraft modernisation, upgrade and retrofit submarket forecasts from 2012-2022
- Airframe and Engines
- Avionics
- Cabin Interiors
- In Flight Entertainment (IFE)
6 regional commercial aircraft modernisation, upgrade and retrofit market forecasts between 2012-2022
- North America
- Europe
- Asia Pacific
- Middle East
- South America
- Africa
Tables of over 70 significant contracts, projects & programmes for commercial aircraft modernisation, upgrade and retrofit
A SWOT analysis
29 leading companies identified and profiled
- AmSafe Industries Inc.
- ARINC Incorporated
- Astronics Corporation
- Aviation Partners Boeing
- BAE Systems Plc
- Bedek Aviation Group
- CMC Electronics
- Diehl Aerosystems
- Flying Colours Corporation
- Garmin Ltd.
- Goodrich Corporation
- FACC AG
- Global AirWorks
- Honeywell Aerospace
- Inmarsat Plc
- L-3 Communications Integrated Systems (L-3/IS)
- Moog Incorporated
- PGA Electronic
- RECARO
- Regent Aerospace
- Rockwell Collins
- Sagem Avionics
- ST Aerospace
- Thales Group
- TIMCO Aerosystems
- Thrane & Thrane
- Universal Avionics Systems Corporation
- Yokohama Aerospace America
- Zodiac Aerospace
You can order this report today
Gain an understanding of how to tap into the potential of this market by ordering The Commercial Aircraft Modernisation, Upgrade and Retrofit Market 2012-2022
Other customers also bought: