Email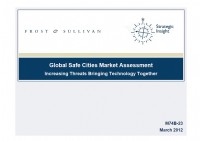 Safe cities are evolving at the same pace as smart cities. Technologies used in smart cities enhance security systems. This is all based on the fast flow of information.

Constant urbanisation growth is creating an issue with patrolling larger areas. The threats are extremely difficult to contain, and this problem is driving technological advancement.

The main drivers that influence safe city projects are strong city economy, safety and security threat, Internet protocol, natural disasters, improved private and public partnership, and co-operation of a common security threat. The restraints that we have identified are economic crisis, budget cuts, legacy systems, and governmental changes.

To put the main city players into perspective, we created a safe city Index comprising six factors: Economic Power, Technology Adoption, Security Threat, City and Security Maturity, Urbanisation, and Privacy. From the analysis the top five cities were New York, Tokyo, Los Angeles, Shanghai, and Beijing.

The technology used in safe cities is extremely broad and varies broadly on the product life-cycle curve with CCTVs on the mature level and Long-Term Evolution (LTE) in the development stage.


Technology analysed in this research service and its influence on safe cities


Smart Phones

will greatly empower the first responders due to fast Internet connection, photographic and video capabilities, large screens, and great communication devices, whether through voice or application.

City Cloud

Solutions will greatly influence the way communication occurs and the way information is stored from security devices and other areas implemented in the system.

4G LTE

will enhance the speed of data transferred, allowing live video streams in high definition (i.e., from surveillance cameras).

The Police Mobile Office

will be enhanced with up to date technology to reduce the need to visit the precinct as well as to carry out duties in a swift manner.

Video Surveillance

is the main weapon to fight crime as well as to archive situations for forensic purposes.

C3i

allows the integration of communication technology and data analysis, which strongly enhances the pace of the decision making process.

Video Surveillance Data Storage

is extremely important since the data transfer is constantly increasing in size and archiving information is critical for forensic purposes.

Physical Security IT Storage

will be increasing its importance with an increased number of integrated systems. The data gathered will definitely bring storage issues.

Anti-Cyber

will be an increasing concern of first responders and data centres. Because all the information stored will be electronic, it will have to be secured from hackers.

Unmanned Aerial Vehicles (UAVs)

will be a great weapon for situational awareness and will have an increased influence on the safety and security of the first responders.

Physical Security Information Management (PSIM)

is the technology that will enable monitoring of the situation using many security systems incorporated into one. This is the main technology influencing security projects.

SaaS & Managed Services

are considered due to current budget issues faced by municipalities.

Mobile Video Surveillance

will supplement fixed video surveillance through in bus and train deployment. Real time footage will allow continuous monitoring.

Data Mining and Data Fusion

will be crucial for the way information is analysed. Its main role is to reduce the time of analysis and increase effectiveness.

Sensors

have become crucial for large areas and critical infrastructure. sensors are the most economic and most effective in large areas.

Biometrics

are becoming a savings enabler through the use of mobile biometric devices. On-site checks against the Automated Fingerprint Identification System (AFIS) eliminate the time and cost lost to travel back to the precinct.

Graphical Information Systems (GIS)

aid first responders to react to an incident before it actually occurs through the analysis of historical data.

Once we have outlined the technology used in safe cities, we will find that the competitive environment is enormous, as are the opportunities within systems integration, technology, and cyber/network.
Purchase this report
Unfortunately this market research is not available anymore, please use the links below to find related reports.