Email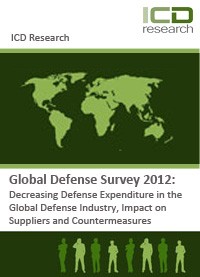 "Global Defense Survey 2012: Decreasing Defense Expenditure in the Global Defense Industry, Impact on Suppliers and Countermeasures" is a new report that analyzes the global defense industry's view point on decreasing defense budgets. This report examines the effects of decrease in defense expenditure on the global defense industry and identifies its impact on revenue expectations of global defense suppliers. It also analyzes business strategies of defense contractors and other suppliers, identifies new business opportunities and priorities, and forecasts demand for key products and services. It also projects expected change in global defense expenditure, region-level military budgets, merger and acquisition expectations, collaborative projects and outsourcing trends.


Key Highlights
Delivering high customer service or satisfaction, increasing sales, establishing new relationships with governments and establishing new relationships in the commercial industry are the most important business priorities for defense companies.
Survey results show that 74% of respondents expect to see an increase in merger and acquisition activity due to a decrease in defense expenditure
Italy, Canada and the UK regions are expected to experience the greatest decline in the defense expenditure in the next two years.

Scope

The report features the opinions of global defense industry respondents related to the following:
Expected change in global defense expenditure over the next two years
Key factors affecting military budgets
Critical impacts on global defense suppliers and revenue change expectations
Business strategies adopted by the global defense industry to counter changes
Change in business priorities of defense companies and emerging business opportunities
Key product segments and projects that are affected by budget slashes
Demand for various products and services, including key markets that will drive growth
Changes in merger and acquisition, collaboration and outsourcing activities

Reasons to Buy

Forecast changes in global defense expenditure over the next two years and identify key growth regions
Understand the critical impacts of declining military expenditure on global defense suppliers and the effect on major projects
Identify revenue expectations of defense organizations
Benchmark business strategies with industry leaders and identify new business opportunities and changing priorities in the defense industry
Formulate effective strategies through the identification of changes in mergers and acquisitions and collaborative activities
Identify preferred trends in outsourcing services and functions and devise business plans accordingly
Manage your business plans better by aligning product portfolio with the changing demand patterns for defense products and services
Understand the effect of decrease in defense budgets on other players and competitors in the industry.
Purchase this report
Unfortunately this market research is not available anymore, please use the links below to find related reports.