Email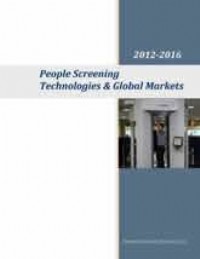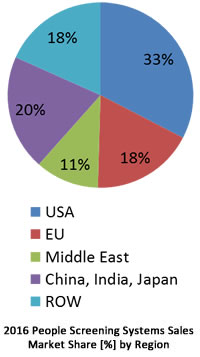 The growing internal security and terror challenges facing India, China, Brazil and the Middle East oil exporting countries on one hand, and the prospects of the US and EU economies on the other hand will redraw the global People Screening industry landscape.

In the new People Screening Technologies & Global Markets – 2012-2016 report HSRC analysts forecast that the global market (including systems sales, service, upgrade and refurbishment revenues) will grow at a CAGR of 11.6%. While the US systems sales are forecast to decline at a CAGR of -1%, the markets in China, India, Brazil and the Middle East are forecast to grow at a solid CAGR of over 17%.

The report, segmented into 136 sub-markets, offers for each sub-market 2011 data and 2012-2016 forecasts and analysis.


In 354 pages, 111 tables and 203 figures, the report analyses and projects the 2012-2016 market and technologies from several perspectives, including:
Market forecast by customer sector (e.g., transportation, secured facilities)
Market segmented by Systems sales vs. Service, upgrades & refurbishing market
5 regional markets and 8 key national markets (e.g., USA, UK, Germany, India, China, Brazil)
Over 30 key equipment vendors
Market analysis (e.g., market drivers & inhibitors, SWOT analysis)
Business environment (e.g., competitive analysis)
Current and pipeline technologies
Business opportunities and challenges

Purchase this report
Unfortunately this market research is not available anymore, please use the links below to find related reports.