World Commercial Avionics - Market Report
Published: Jul 2009 - Pages: 123 - Report code: ASDR-2291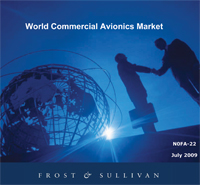 This research service examines the commercial air transport and avionics market, including a detailed avionics market forecast from 2007 to 2013. The service also includes market share and revenues for avionics manufacturers. It contains a segment-specific analysis, and an analysis of the retrofit and post sales service markets segments.

Our last commercial avionics research service reflected the changes driven by 9/11 and the airline downturn which followed that event. Since then, the aircraft and avionics markets have grown to new record revenue highs. The air transport market, including regional aircraft, has grown significantly. Business and general aviation recovered nicely from the last downturn. Now a new set of dynamics is changing the landscape. It started with the rapid rise in the price of oil and an even faster rise in the price of jet fuel. Airlines that had returned to profitability were suddenly unprofitable again. 2008 began to show signs that the economy had slowed significantly. Now the world is clearly in a global recession and that adds new forces to the avionics market.

Avionics, in the context of this research service, is a term derived from "AVIation" and "electrONICSď and is defined as the electromechanical and solid-state components and systems installed in the cockpit and the electronics compartments, which aid pilots in the safe and efficient operation of an aircraft. Other definitions extend this to air traffic control (ATC) equipment and other ground based flying aids, but such equipment is not included in this analysis.

For the purposes of this research service, Frost & Sullivan has divided the industry into the following market segments: Air Transport (Major and Regional Airlines) and General Aviation (Business, recreational and rotorcraft) and has sub-segmented these markets into four product categories: communications equipment, navigation equipment, surveillance equipment, and integrated systems.

Table of Contents
Executive Summary 5
Introduction 6
Market Scope 7
Summary of Key Findings 8
Market Attractiveness Table 9
Competitive Overview 10
End-user Overview 11
Technology Roadmap 12
Conclusions & Recommendations 13-14
2. Market Dynamics 15
Market Engineering Measurements 16
Market Drivers and Restraints 17
Analysis of Market Drivers 18
Analysis of Market Restraints 19
Industry Challenges 20
Analysis of Industry Challenges 21
Market Trends 22
Analysis of Market Trends 23-24
3. World Commercial Avionics Market 25
Market Overview 26-27
Spending and Segment Analysis 28-32
Competitive Structure 33
Market Participants 34
Market Share Analysis 35
Competitive Analysis 36
Competitive Landscape 37
4. Commercial Air Transport Avionics Market 38
Market Overview 39
Spending and Segment Analysis 40-55
Competitive Structure 56
Market Participants 57
Market Share Analysis 58
Competitive Analysis 59
5. Business & General Aviation Avionics Market 60
Market Overview 61
Spending and Segment Analysis 62-77
Competitive Structure 78
Market Participants 79
Market Share Analysis 80-81
Competitive Analysis 82
6. Appendix 83
Glossary of Terms 84-90
Organizations 91-94
System Definitions 95-115
Market Definitions 116
7. About Frost & Sullivan 117
Who is Frost & Sullivan 118
What Makes Us Unique 119
T.E.A.M Methodology 120
Frost & Sullivanís Expertise and Relationships 121
Frost & Sullivanís Proven Methodology 122
Global Perspective 123
Unfortunately this market research is not available anymore, please use the links below to find related reports.