Email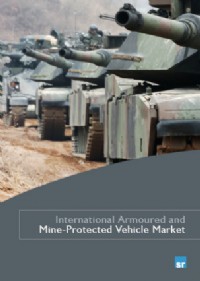 The 108-page International Armoured and Mine-Protected Vehicle Market published in October 2011 is a report assessing current trends and future requirements in the combat armoured and mine protected vehicle market from 2011 through to 2021.

The pressure on US and Western defence spending has forced armoured vehicle programmes to be cancelled, delayed or reduced. Yet, there remains a high demand for armoured vehicles with many current platforms reaching the end of their service life. It can be estimated that major programmes and requirements currently in place and planned in the next decade or so are worth in excess of USD150 billion.

Some USD4.1 billion was spent alone in 2010 on the procurement of new vehicles, driven by demand for Mine Resistant Ambush Protected (MRAP) vehicles for use in Afghanistan. Around USD4.0 billion worth of contracts were signed covering the upgrade of existing in-service vehicles, making it a particularly lucrative market in these times of tightened defence sending. The US remains the biggest spender investing in the procurement of new vehicles and upgrades.


The purpose of this market report is to:
Assess the current armoured and MRAP vehicle market.
Identify the main manufacturers and their products as well as significant sub-contractors in the supply chain.
Assess main programmes.
Provide a detailed overview of current and future opportunities within the armoured and MRAP vehicle market.
The International Armoured and Mine-Protected Vehicle Market assesses more than 60 current and future armoured vehicle programmes, procurement and requirements in more than 20 countries. The publication is completed with the addresses, telephone and website listings of more than 130 major companies, subcontractors and agencies mentioned in the publication and
connected to the armoured vehicle market.


This market report covers the following types of armoured vehicles:
Main battle tanks.
Infantry fighting vehicles
Armoured personnel carriers.
MRAPs.
All-terrain vehicles.
Light armoured patrol vehicles
Purchase this report
Unfortunately this market research is not available anymore, please use the links below to find related reports.