Email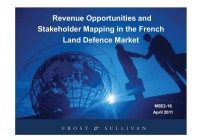 The French army is transforming itself to become more integrated and interoperable with its allies, including with other European countries and the United States. This major shift is having a notable impact on the French land defence market. Although military spending is one of the keystones of the current Government's economic recovery strategy, the recent reduction in the defence budget presents significant challenges for market participants. The market is likely to remain flat until 2015, following which modernisation programmes are poised to stoke market growth.

"The trend of military downsizing has been noticeable across all the domains of the French defence force," notes the analyst of this research. "As a conscious measure to avoid the drawbacks of downsizing, the armed forces are being equipped with advanced equipment." Increasing involvement in high-intensity operations, coupled with lessons learnt from recent conflicts, have pushed France to opt for advanced and more efficient military equipment. Upcoming modernisation programmes in the land defence domain are set to significantly boost market prospects. It is estimated that the French land defence market earned revenues of €973 million in 2009 and is estimated to reach €1.48 billion in 2019.


Partnering with Domestic Companies to Promote Market Penetration

Domestic defence companies will be challenged by foreign competitors who are trying to penetrate the market to cater to the army's urgent operational requirements. On another front, there is the challenge of the French economy being likely to recover completely from the downturn only after the short term. The Government still faces a crisis, which is compelling it to curtail the country's defence budget. The increasing benefits of commercial-off-the-shelf (COTS) products is tempting the Government to reduce the initial funding required to develop a product prototype. In future, companies would have to self-fund to develop prototypes, thus impacting companies with limited budgets. "The cash-strained Government is reluctant to make any initial investment towards developing equipment prototypes," explains the analyst. "This would definitely be a hindrance to market participants with limited budgets."

The current economic scenario has forced the Government to cut down on its defence spending. The impact of this budget reduction is being felt at all levels across the value chain. The upcoming land defence programmes in France are of significant value and hence, the competition to leverage these opportunities is expected to be intense. The French defence industry remains secluded and it is difficult for foreign companies to penetrate the market. "Partnering with domestic defence companies would enable foreign companies to gain access to the French land defence market," concludes the analyst. "It would also enable them to respond more effectively to urgent operational requirements."


Market Sectors

Expert Frost & Sullivan analysts thoroughly examine the following market sectors in this research:
Soldier modernisation
Land vehicles
Unmanned ground vehicles
Land radars
Land training and simulation
Purchase this report
Unfortunately this market research is not available anymore, please use the links below to find related reports.