Chile Mining Report Q1 2015
Published: Dec 2014 - Pages: 77 - Report code: ASDR-164847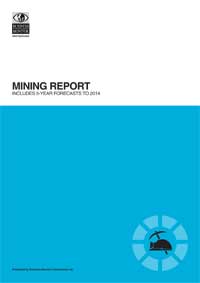 Our View:
Chile's mining sector will see subdued average annual growth of 1.2% in 2015-2018. The country's stable political and business environments, and significant mineral reserves, will encourage continued sector investment. Yet elevated operational costs, lagging productivity, regulatory changes, and subdued copper and precious metal prices will limit sector growth and miners' expansion plans.
Copper production will dominate Chile's mining sector for the foreseeable future, though the country's global share of output is set to decline from 32.8% in 2013 to 30.6% in 2018. In the first ten months of 2014, the metal accounted for approximately 92% of mining exports as measured in dollar terms and nearly 50% of the country's total exports. However, the latter represents a decline from 2010, when copper accounted for slightly over 58% of the country's total exports. Ultimately, we expect the mining industry to be hit by lower copper prices, which we forecast will average lower year-on-year (y-o-y) to 2018, with prices averaging USD6,500/tonne in 2015. Still, the pipeline of copper projects and the country's global dominance in copper production will ensure the country maintains its lead despite falling ore grades and lagging productivity.

This report is part of BMI's country analyses series in multiple markets. If you buy multiple reports from this series you will receive below quantity discounts.
With the link below 'More reports' you will go to the overview page with all reports part of this series.
Quantity
Price per Report
2 reports
US$1,180.00
3 reports
US$1,120.00
4 reports
US$1,060.00
5 reports
US$1,005.00
6 reports
US$945.00
7-20 reports
US$885.00
21-100 reports
US$770.00
More reports with this discount.
* - discounts are calculated in your cart