| Published | Pages | Publisher | Report code |
| --- | --- | --- | --- |
| Oct 2012 | 127 | Visiongain | ASDR-13576 |

Email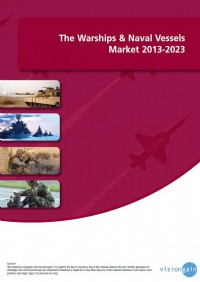 The warships & naval vessels market is an established defence sector, but one that offers considerable opportunities to exploit. Despite the decrease of defence spending in the West, the market continues to be driven by other factors. The withdrawal from Iraq and Afghanistan shifts the focus to modernisation of neglected fleets. Also the changing nature of warfare, the continued threat of piracy and terrorism, and the rapidly evolving profiles of emerging markets, offer opportunities. Therefore, we have determined that the value of the global warships & naval vessels market in 2013 will reach $77.17bn.
What makes this report unique?
Our reports have a unique blend of primary and secondary sources providing informed opinion. This approach allows insight into the key drivers and restraints behind contract and programme developments, as well as identifying the leading companies. The report also presents a unique blend of qualitative analysis combined with extensive quantitative data including global, submarket and national markets forecasts from 2013-2023 - all highlighting strategic business opportunities.

Why you should buy The Warships & Naval Vessels Market 2013-2023
127 pages
Exclusive interview with an expert from:

- Nobiskrug

150 tables, charts and graphs
Global Warships & Naval Vessels market forecasts between 2013-2023
3 Warships & Naval Vessels submarket forecasts from 2013-2023

- Combatant Ships
- Non-Combatant Ships
- Submarines

11 leading national Warships & Naval Vessels market forecasts between 2013-2023
- US
- China
- Russia
- France
- UK
- India
- Japan
- Brazil
- Australia
- Argentina
- Turkey
- Rest of the World (ROW)

Detailed tables of significant contracts, projects & programmes
A SWOT analysis
20 leading companies identified and profiled -

- Austal
- Babcock International Group
- BAE Systems
- Curtis-Wright Corporation
- DCNS
- Fincantieri
- Finmeccanica
- General Dynamics
- Goodrich Corporation
- Huntington Ingalls Industries
- Kawasaki Heavy Industries
- Kongsberg Group
- Lockheed Martin Corporation
- Mitsubishi Heavy Industries
- Navantia
- Raytheon Company
- SAAB
- ST Engineering
- Thales Group
- ThyssenKrupp Marine Systems

You can order this report today
Gain an understanding of how to tap into the potential of this market by ordering The Warships & Naval Vessels Market 2013-2023
Purchase this report
Unfortunately this market research is not available anymore, please use the links below to find related reports.