Email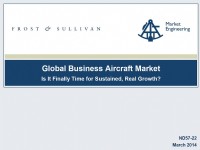 The business aircraft market was a growing, dynamic market for many years. In 2007, with the "Great Recession," the business aircraft market collapsed along with the general aviation market.
The scene with the big three auto executives admitting to Congress that they had all arrived in their company business jets to ask for money from the American people helped seal the fate of the business aircraft market. While all areas of the market declined significantly, the large aircraft market and turboprop market have been resistant to downward pressures, unlike the light end of the market.
This research looks at the market from 2012 through 2020, both from aircraft deliveries and potential aircraft sales.
Key Findings
Acquisitions and business failures have reduced the number of market participants in the last years.
Asia-Pacific, China, India, and the Middle East have become the most significant growth areas for the business aircraft market, but North America and Europe remain the largest markets.
The reduced economies in North America and Europe, plus the cost of modifications, have limited the number of new modification contracts.
New deliveries of large airframes are at record levels and is the major market sales area.
The lack of significant economic growth in North America and Europe will limit medium and light jet market growth in those regions.
Aircraft manufacturers are looking for the best production rates. Their traditional metrics do not work well on the low end of the production spectrum.
One of the more interesting portions of the market involves services offerings. Many of the traditional charter operators and aircraft brokers are offering aircraft management packages that include charter, fractional, and many other services.
Key Questions This Study Will Answer

Have cessations of business activities reached a logical conclusion?
Can aircraft manufacturers expect to gain additional sales?
Will price points drive less functionality?
Do very light jets have much of a future?
Will production of new aircraft eliminate most modification operations?
What effect will the reduction in OEMs have on the aircraft price point?